Upland Brewing Announces Cherry and Darken Sour Beers
(BLOOMINGTON, IN) — Upland Brewing Co. announces the release of two favorite wood-aged sours for early July—Cherry and Darken. Both were brewed with distinct fruit or spice profiles, offering delightfully funky and complex flavors that pair well with food or are great enjoyed alone. Cherry will be released in 750 ml bottles and on draught, while Darken comes in 500 ml bottles and also on draught. Both will be available throughout Upland's distribution areas.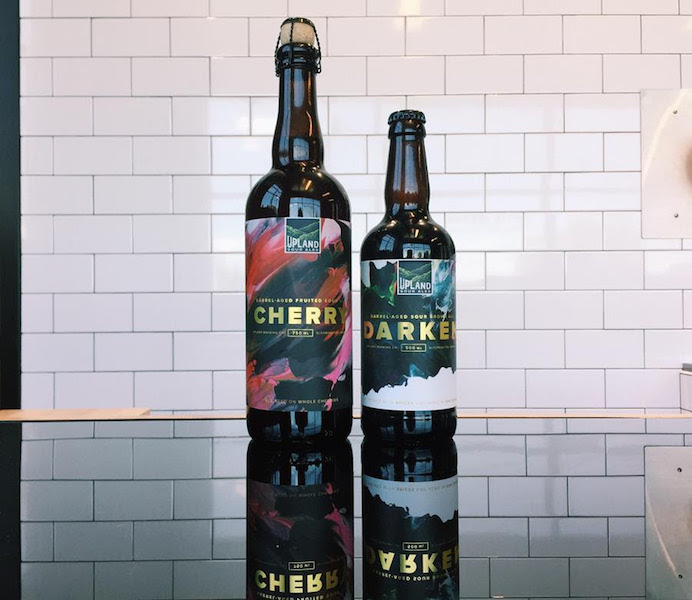 Cherry was one of the first whole fruits chosen when Upland began their sours program in 2006. The base beer is aged in oak foeders eight to 12 months before individual batches are blended to create the perfect balance of flavor and acidity. Those batches are then aged on tart Montmorency cherries from King Orchards in northern Michigan for an additional three months. The final result is a sour ale with hints of wine and cider and notes of cherry pie, lactic tartness, and mild barnyard that envelop the palate.
"We love using Montmorency cherries because they offer a wonderful balance of flavor acidity. Aging more than 3 pounds of cherries per gallon gives the beer its beautiful reddish-pink color, intense cherry, floral, funky flavor with a dry and fruity finish," said Pete Batule, VP of Brewery Operations.
Whereas Cherry brings a strong fruit profile, spices make up the intricate aromas and flavors of Darken. A take on an "oud bruin" or Flanders Brown Ale, Darken is aged in oak over long periods of time creating a harmonious brown sour ale. At the end of the kettle boil, star anise, ginger, grains of paradise, black pepper, and coriander spices are added. A small amount of candi sugar and rye malt are also included to balance the spice.
"Darken is our most complex beer. There are multiple layers of flavors and aromas that are revealed with every sip," said Dusty Howe, Sour Beer Brand Manager.
Unique ingredient and flavor combinations continue with releases planned for the end the 2017 that include Revive, a refreshing coupling of pineapple and chamomile, and Crimson, a Flanders Red ale that spends eight months on bourbon barrels rather than white oak.
About the beers:
Tart cherries dominate the aroma of Cherry, with hints of wine and cider. Flavors of cherry pie envelop the palate with a dry, lingering fruity finish. Darken produces aromas of licorice, ginger, cherry, and mild notes of pepper with an approachable tartness from a flavor melding of spice and fruit with a dry finish.
About Upland Brewing Co.
Located in Bloomington, Indiana, Upland Brewing Co. has an intriguing brewing story that dates back to 1998. Our mission is to brew remarkable beers in remarkable ways, staying true to the artisan, progressive spirit found in our part of the Midwest. Upland is currently the third largest brewery in Indiana and brews more than 50 different styles of beer annually.