Uinta Brewing Announces Plans For Expansion, Installing Canning Line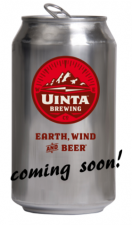 June 22, 2012, SALT LAKE CITY— In its 20th year of operation, and to accommodate a 67% sales growth in 2012, Uinta Brewing Company announces plans for expansion.
In April 2012, Uinta installed three new fermentation tanks, increasing its production capacity to 65,000 bbls and allowing Uinta to implement a 24/7 brewing schedule to meet the growing demand. The expansion does not stop there, however.  In addition, Uinta recently acquired the land immediately south of the existing brewery. Following the recent demolition of the preexisting structure, from which 100% of the materials were recycled, Uinta has developed plans for a second plant, a 34,000 sq. ft. building, which is slated to break ground in July, 2012.  The new facility will house Uinta's packaging equipment, cold storage, a second lab, employee tasting room, and additional office space.  All told, Uinta Brewing Company will operate on a more than 5-acre brewing campus. The project is expected to be completed in early 2013.
For this brewery, the new facility isn't the only thing on the rise.  Aware of the sluggish economy, and eager to help local business, Uinta is thrilled to be adding a host of new team members.  The brewery's growth is directly responsible for a 40% increase in jobs.
With the new facility, Uinta will be installing a canning line, adding a new option to their current packaging lineup. The Uinta team, comprised of outdoor enthusiasts, is excited to offer a package that pairs well with adventure. Uinta has not finalized which brands will be dressed in the new aluminum package, and the team welcomes your input via a Facebook poll. Visit Uinta's Facebook page ( http://www.facebook.com/pages/Uinta-Brewing/136640885735?ref=ts ) to let them know which brands you would like to see (drink) canned. 
UINTA BREWING CO-Uinta Brewing Company embarked upon its mission of brewing world class, full-flavored, craft-brewed beer in 1993.  Uinta Brewing is named after an east-west mountain range located in northeastern Utah.  Many of Uinta's beer names are inspired by Utah's diverse landscapes or have historical significance.  Uinta has broadened its market and can be found in 21 states from coast-to-coast, and has even ventured to other countries around the world.  Uinta is committed to brewing world-class beer using the best practices and ingredients.