Twin Leaf Brewing & AMOS Collaborate on Two Beers
(ASHEVILLE,NC) –  Twin Leaf Brewing is teaming up with the Asheville Museum of Science (AMOS), previously known as the Colburn Science Museum, to create two beers that will raise funds for the museum's current spotlight campaign. The collaboration supports AMOS's expansion into the Wells Fargo building adjacent to Pritchard Park, a move which will almost double its exhibit and classroom space and allow for expanded science education programming in Western North Carolina.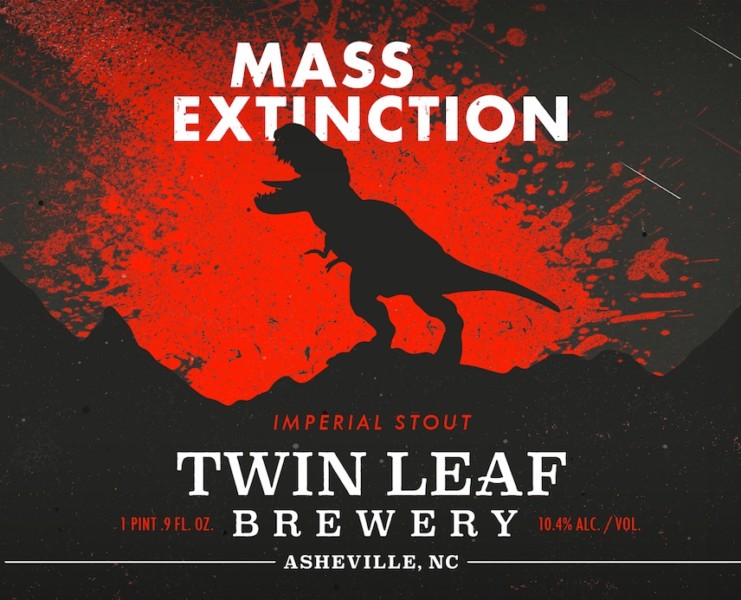 Prior to starting Twin Leaf Brewing, Tim Weber, head brewer and owner, made his living as an engineer. A self-ascribed nerd, Weber began home brewing while studying engineering in college and fell in love with the science of brewing. His passion for math and science never left him despite his transition into brewing as a profession. When he heard about the science museum's expansion and their desire to increase STEM education (Science, Technology, Engineering and Math), he jumped at the opportunity to support their mission.
"I want to be able to pass along my love of the sciences to my four-year-old son," said Weber. "With the expansion of AMOS, we won't have to drive to Greenville or Charlotte to go to a science museum where he can explore and learn. We will have a great program here in our backyard, which will also benefit visitors to town who have kids and are looking for something to do."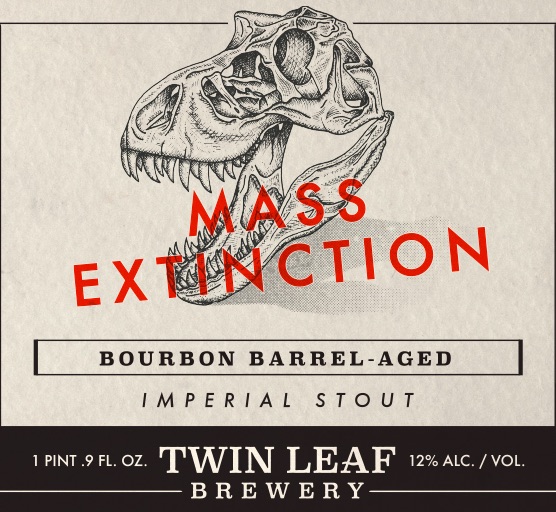 Anna Priest, the executive director of AMOS, was pleasantly surprised when Weber reached out about the collaboration and desire to donate to the museum's growth.
"This is an exciting time for AMOS as exhibits are being finalized and our expansion is imminent," stated Priest. "What could be a more fun way to celebrate science in Asheville than through tasty new beers from Twin Leaf Brewing? We are honored to be a recipient of the brewery's generosity and are looking forward to celebrating together."
The collaboration beers are two versions of imperial stout. The more traditional stout, Mass Extinction, was aged in stainless for eight months. The second beer, which carries the same namesake, was barrel-aged in bourbon barrels for twenty months. Barrel-Aged Mass Extinction boasts added flavors of vanilla and tannic bitterness due to the barrels. In addition to the same name, both beers have a T-rex on their label, an image that has become symbolic of the museum, as they have acquired a juvenile "cousin" to the T-Rex for their exhibits.
The organizations will celebrate the collaboration at Twin Leaf's South Slope location on Thursday, August 25th from 6:00 pm to 8:30 pm. Representatives from AMOS and Twin Leaf will be available during the event along with draft versions of both imperial stouts. Bottles will be also be for sale Thursday evening. Only a limited number of bottles are available.
ABOUT TWIN LEAF BREWING
Twin Leaf Brewery is a 10-barrel brewery located in the South Slope region of Asheville, NC. Driven by the do-it-yourself spirit, Twin Leaf Brewing was hand built by the owner and purveyor of the business and is committed to supporting the outdoor lifestyle of all the brewery employees through environmental conservation. Twin Leaf Brewery is best known for producing such flagship beers as Dark Matter Oatmeal Stout, Juicy Fruit IPA, White Noise Wit, Uproot ESB and Luminosity Triple as well as an ever-rotating selection of hand-crafted, one-off beers available only in their taproom. To learn more about the company, visit www.twinleafbrewery.com
ABOUT THE ASHEVILLE MUSEUM OF SCIENCE
Asheville Museum of Science (AMOS) is the re-branded and expanded Colburn Earth Science Museum. The Colburn has served Asheville and the western North Carolina (WNC) region for over 55 years with a mission to foster appreciation for the earth and its resources through exhibits, educational programming, and the care of its collection. The Colburn serves over 14 counties in WNC by hosting school field trips and providing outreach. In fall 2016, AMOS will complete the move to its new, larger location in the Wells Fargo building. AMOS will offer expanded programming and exhibits that include life science disciplines and STEM (Science, Technology, Engineering, & Math). For more information, visit www.colburnmuseum.org or call 828-254-7162.