Tröegs News – Scratch 81 – 83 Details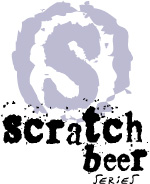 Tröegs Brewery updates us on the latest offerings from their Scratch Series.
Scratch #81: Export Lager – This particular beer style originated in Dortmund, Germany in the 19th Century to compete with the more fashionable pilsners of the day. Scratch #81 harkens back to one of the first Tröegs beers ever produced – our Bavarian Lager. This slightly dry, pale golden lager has subtle hop bitterness and a fairly low ABV, making it a perfect session beer. Availability: draft only. Release date: 11/30/12.
Scratch #82 – Tripel – The term "Tripel" was popularized by Trappist brewery Westmalle to describe its brawniest strong pale ale. Well, we assure you that this is indeed one brawny Triple! Brewed with 450lbs. of PA honey and Westmalle yeast, expect this latest Scratch Tripel to be sweet and stealthy with plenty of alcohol weight. Availability: cases, six-packs, growlers, and draft. Release date: 12/7/12.
Scratch #83 – ¿Impending Descent? – As we spiral further toward the end of the Mayan calendar, Tröegs is brewing up a special beer to commemorate the expiration of planet Earth. Celebrate the countdown to extinction and raise a goblet of this colossal Russian Imperial Stout as we plummet into oblivion. If your tongue doesn't disintegrate as a result of the birthday party cheesecake jellybean BOOM, it most certainly will wreak major havoc on your taste buds. ¿Impending Descent? is as enormous, face-melting, and palate-numbing as it sounds. If there ever was a last beer to enjoy before the apocalypse, this is it! Availability: cases, six-packs, growlers, and draft. Release date: 12/12/12.