SanTan Collaborates To Make Addams Family Beer – Night of the Living Red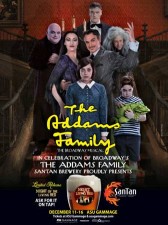 Chandler, AZ —They're creepy and they're kooky, mysterious and spooky, in celebration of THE ADDAMS FAMILY, SanTan Brewing Company and ASU Gammage have teamed up for something spooky this December. This fun and creative collaboration will make you scream with excitement with one sip of SanTan Brewing's Night of the Living Red Imperial Red Ale.
SanTan Brewing Company has selected a handful of valley locations to carry Night of the Living Red Imperial Red Ale, a limited edition release. It will be available on tap through December 18th at select locations including Tavern on Mill, Mellow Mushroom, Devil's Advocate, Flanny's, Boulders on Broadway, Monsterland, Handlebar on Mill and Cadillac Ranch.
At Monsterland, THE ADDAMS FAMILY ticket holders can enjoy FREE homemade chips and $1 off any SanTan Brew through December 18, 2012. Just show your tickets to your server!
THE ADDAMS FAMILY will invade the ASU Gammage stage December 11-16, 2012. This is a smash-hit musical comedy that brings the darkly delirious world of Gomez, Morticia, Uncle Fester, Grandma, Wednesday, Pugsley and, of course, Lurch to spooky and spectacular life.
This magnificently macabre new musical comedy is created by Jersey Boys authors Marshall Brickman & Rick Elice, Drama Desk-winning composer/lyricist Andrew Lippa (The Wild Party), choreographer Sergio Trujillo (Jersey Boys) and Olivier Awardwinning director/designers Phelim McDermott & Julian Crouch (Shockheaded Peter) with production supervision by four-time Tony Award® winner Jerry Zaks.
Tickets are on sale now at asugammage.com or by calling 1.800.982.ARTS (2787). ASU Gammage is located on the main campus of Arizona State University in Tempe at Mill Avenue and Apache Boulevard. The PROGRESSIVE®  Broadway Across America – Arizona series is presented by ASU Gammage, Broadway Across America. US Airways is the official airline of ASU Gammage.
This collaboration marks the second for SanTan Brewing Company and ASU Gammage. Earlier this year SanTan Brewing Company launched a limited edit brew in celebration of the PROGRESSIVE® Broadway Across America – Arizona performances of AMERICAN IDIOT.
About ASU Gammage
Located on the Tempe campus of Arizona State University, ASU Gammage is among the largest university-based presenters of performing arts in the world.  ASU Gammage is the home theater of the PROGRESSIVE® Broadway Across America – Arizona and Beyond series.  Its mission is connecting communities by providing artistic excellence and educational outreach to the public.  ASU Gammage is a historic hall designed by internationally-renowned architect Frank Lloyd Wright.  Visit www.asugammage.com for more information.
About SanTan Brewing Company
Open since 2007 under the leadership of head brewer and owner, Anthony Canecchia, SanTan Brewing Company has established a strong reputation as Arizona's favorite craft beer. In addition to brewing, SanTan features a friendly neighborhood brewpub in Downtown Chandler, which has quickly become one of the top local food and beer destinations in the East Valley.
In 2009, SanTan Brewing began distributing their core and seasonal brews throughout the state of Arizona, operating with a mission to pair craft beer with craft food that would inspire great conversation and good times. The brewpub and SanTan beers have won numerous national and statewide awards including a silver medal at the 2011 Great American Beer Festival, a gold medal at the 2012 US Open Beer Championships and 2011 Best Brewery in Arizona, selected by the Phoenix New Times.
Visit SanTan Brewing Company at 8 S. San Marcos Place, Chandler, AZ. They're open Sunday-Thursday, 11 a.m.- 1 a.m. and Friday-Saturday, 11 a.m. – 2 a.m. Also, check out SanTan Brewing Company online at www.santanbrewing.com and become a fan on Facebook at www.facebook.com/SanTanBrewingCo or follow them www.twitter.com/SanTanBrewing for more information on upcoming specials and promotions.
About HDE Agency
HDE Agency is a full service agency dedicated to expanding client visibility and establishing marketable brand positioning. We offer a wide range of brand development services including public relations, design, advertising, social media, print collateral and event production. By establishing a strong foundation of action based campaigns, HDE Agency strives to transform our clients' goals and objectives into tangible efforts measurable by an increase of customers, sales and community relationships. Visit HDE Agency online at www.hdeagency.com for a complete list of services and learn about our current projects, events and community engagements through the HDE Agency blog at www.hdeagency.com/blog. HDE Agency can help you expand your reach!