The Bruery – Happy New Year News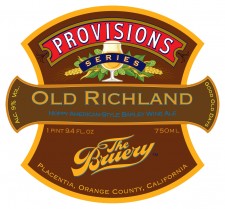 The Bruery of Placencia, CA shares with us info on their Provisions Series, an update on their Batch 300 Homebrew contest, as well as expansion. More details and info in the pipeline. Cheers!
The Bruery Provisions Series – As for beers, they've got plans for a new Provisions series beer to be released every month.  They're starting in January with "Old Richland" (See Image to the right) a hoppy American-style Barleywine and in February they'll be releasing "Cuadruple", a Belgian-style quad brewed with dark agave nectar.  Lots more fun ones coming up over the year.  Of course there will be plenty of interesting beers coming out for the Reserve Society, but many of them don't get decided on until we know what's tasting great out of the barrels.
Expansion – The Bruery is in the process of expanding their cellar and if all goes to plan, they hope to increase their capacity by about 80%.  They're are also looking at some new markets, but nothing at all has been decided yet.  Hopefully by March they'll have some updates one way or the other, but right now its just speculation.  We'll be sure to let you know asap when we actually have some details set in stone.
The Bruery Batch 300 Homebrew Contest – Late last year, we announced the details of The Bruery's Batch 300 contest. Here is a quick update sent out via email yesterday:
Hello homebrewers,

The deadline for our Batch 300 competition is closing in on us and while we realize this is late notice and its doubtful you can get another beer brewed and ready to drink before the deadline, we wanted to let you know that we have expanded the list of categories that we are accepting.

On top of the categories previously listed on our website, we will also accept entries in categories 19, 20 and 21(Strong, Fruit, and Spice/Herb/Vegetable beers). So, if you have something great in one of those categories that you were just wishing you could enter, go ahead and send it in!

Additionally, we'd like to let you know that we will consolidate any categories that do not have enough entries for a competitive tasting.

Please visit our website for further information about the contest.

Good luck to all!

Cheers,
The Bruery
The Bruery Reserve Society – To wrap up, The Bruery will be holding their first Reserve Society Party this Saturday for those who joined the 2011 Reserve Society.  This will be held at the near by Phoenix club, and details of what will be served at the party have remained tight lipped.  Based on other's past experiences, The Bruey will be breaking out some vintage goodies and will probably have some tasty grub.