The Bruery – Details on Mischief Gone Wild and More New Releases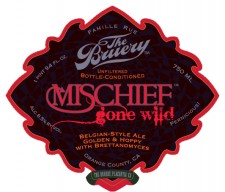 Yesterday, The Bruery Reserve Society 2011 Members received info on 4 new beer releases, one of which is a remix of the hoppy, Belgian IPA-esque beer Mischief.
Here is a shot of the label for Mischief Gone Wild, along with it's description and it's other fellow new beers. Cheers!
Mischief Gone Wild – Most of you have already had our hoppy Belgian-style golden ale, Mischief, and are already familiar with it's unique character. Well, as you know, we at The Bruery get a bit bored of doing the same beers day in and day out, so we decided to introduce brettanomyces to the already mischievious equation and now, as they say, the beer has gone wild. Dryer, differently complex and really quite delicious, Mischief Gone Wild is unrestrained in just the right way.
Provisions Series: Salt of the Earth – Salt of the Earth is our play on a gose. Not to be confused with a gueze, the gose style originated in Leipzig, Germany. It is a wheat beer traditionally brewed with salt and coriander as well as lactic bacteria. Clearly not following the Reinheitsgebot, we figured we'd knock it up a level by using an addition of truffle salt in our gose, adding an earthy and funky element to the aroma and flavor certain to tantalize all of the foodies out there.
Cuir – Cuir is our third anniversary ale. It is the same recipe as Papier and Coton, created using the Solera method. Layered with complex flavors of dark fruit,vanilla, oak, and burnt sugar, we blended a portion of both Papier and Coton that had been aging in oak barrels with this new batch of the same beer, adding an additional layer of complexity that will grow over time as we continue to age and blend with each anniversary, creating an older average age to the ale.
100% Barrel Aged Cuir – This is our special version of Cuir, just for the Reserve Society. While the general release is 25% barrel aged and 75% fermented with oak, this beer is 100% out of the oak barrel leaving it stronger in flavor, alcohol and complexity.