The Bruery Black Tuesday 2012 General Public Sale Info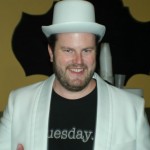 Blatantly copied and pasted from The Bruery's Website, information on The 2012 Black Tuesday Sale by The Bruery. Cheers!
Our infamous Black Tuesday is an imperial stout aged in bourbon barrels for over a year. Rich caramel, toasted malt, vanilla, burnt wood and anise are just a few of the many flavors in this rich, decadent imperial stout.
Black Tuesday will be sold to the world on October 30th, the final Tuesday of the month of October.Sales will be online and will begin at 10am PST.The web domain for the sale is http://BT.thebruery.com You will be able to purchase a maximum of 2 bottles of Black Tuesday.Bottles are $30 each.
We can not ship the beer, it must be picked up from The Bruery Tasting Room. Pickups will begin on November 1st and we will store it until 12/31/12
We HIGHLY recommend that you login ahead of time (right now) and create an account so that you can jump right into the sale on the 30th, as bottles will likely go quickly.
**Please note, this goes through the same eCommerce site that we use for our Reserve Society. If you head to that page right now to create your profile, you will see a few things for sale. You don't have access to purchase those beers, but feel free to look and consider joining the 2013 Reserve Society!
**Also, please note that our current eCommerce system does not guarantee a bottle once it is in your cart. You must FINISH THE CHECKOUT PROCESS before the bottle is guaranteed. We agree, this is a bit odd, but it is what it is and in January of 2013 we will have a brand new site built from the ground up for us without this flaw.
**You must pick up your beer from The Bruery Tasting Room on or before December 31st, 2012. You may assign a trustee to pick up your beer if you can not make it to The Bruery yourself before that date. Do this by putting their name in the shipping section of your profile. In the case that your beer is not picked up by 12/31/12, it will be donated to a charitable auction of our choice.