Terrapin Releases Guano Loco and Rye Cubed
(Athens,GA) – Don't be fooled by the name though. Guano Loco, Side Project Vol. 23, is an ancho brownie ale that fuses the sweet goodness of a fresh-baked brownie and the punch of chili pepper zest, enough flavor to make you lose your mind. It's spicy and sweet. Crazy? Exactly.
From the label:
Like a piñata bursting at the seams, Guano Loco 'Chili Pepper Brownie Ale' explodes with flavor from a myriad of directions. Chocolaty sweetness melds brilliantly with spicy heat to make this beer a fiesta in your glass… Ole!
ABV: 8.6%
IBU: 35
OG: 19.8
Malts: 2-row Pale, Victory, Special Roast, Crystal 65, Crystal 85, Brown Malt, Chocolate Malt
Hops: Super Galena, US Goldings
Guano Loco is shipping now throughout Terrapin's distribution network and is available in 1/6 BBL kegs and 22oz. bottles.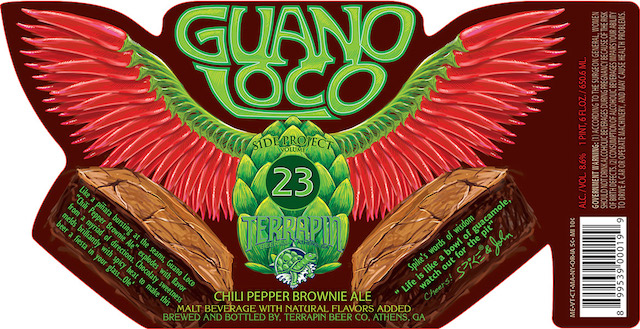 Terrapin Beer Co.'s New Monster is Third Generation in Rye Trilogy
The mad scientists over at Terrapin Beer Co. have unleashed a new breed of Monster to the world. Rye Cubed Triple Rye IPA joins Terrapin's Monster Beer Tour of high-gravity seasonal beers in the summer slot. This new Monster, brought to life from the DNA of its ancestors, has a pedigree that is 100% Terrapin.
Known for their love of hops and rye but not for their subtlety, Terrapin has been successful in this experiment before with Rye Squared, the Monster retired in 2011. This time, they weren't content to stop at twice and pushed the formula threefold. The outcome is Rye Cubed; three times the rye spiciness, rich caramel malt backbone, and hoppy bite than The Original, Terrapin Rye.
From the label:
Rye beers have been a part of our brewing arsenal from day one. "Rye", "Rye Squared" and now "Rye Cubed" Triple Rye IPA completes this trilogy of brewing excellence.
ABV: 10.7%
IBU: 125
OG: 22.7
Hops: Magnum, Fuggle, East Kent Golding, Cascade, Amarillo
Malts: 2-Row Pale, Rye, Munich, Victory, Honey
Rye Cubed is currently available in 4-packs of 12 oz. bottles and 1/6 BBL kegs throughout Terrapin's distribution network.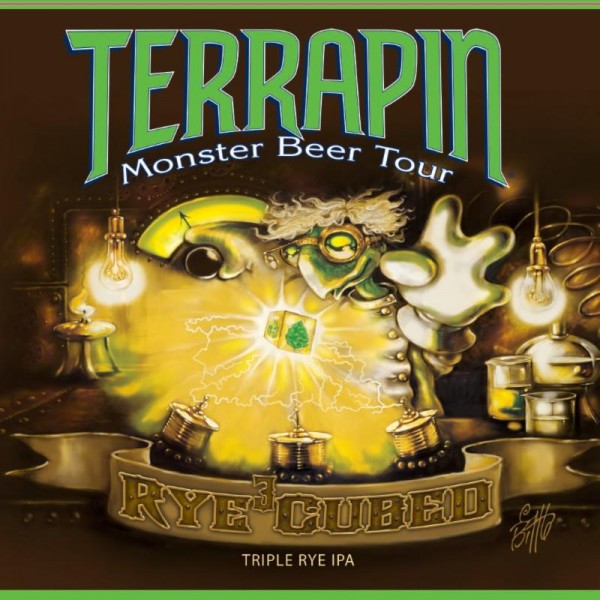 About Terrapin:
Terrapin Beer Co. has a portfolio of six year-round beers, four Seasonal Sessions beers, the Monster Beer Tour collection of four high-gravity selections, and the Side Project series of one-time releases. Terrapin co-owners John Cochran, President, and Brian "Spike" Buckowski, Brewmaster, have developed a reputation for high-quality beers that push the boundaries of creative brewing.
Terrapin Beer Co. is open to the public for tours every Wednesday, Thursday, Friday and Saturday night from 5:30 p.m. – 7:30 p.m. with live music and tastings. The brewery is located at 265 Newton Bridge Road in Athens, GA. The tours are an excellent opportunity to taste Terrapin's full line of award winning beers at their freshest and to see the brewing process first hand. For more information visit the website or Facebook page.