Firestone Walker BarrelWorks Bretta Weisse Release Details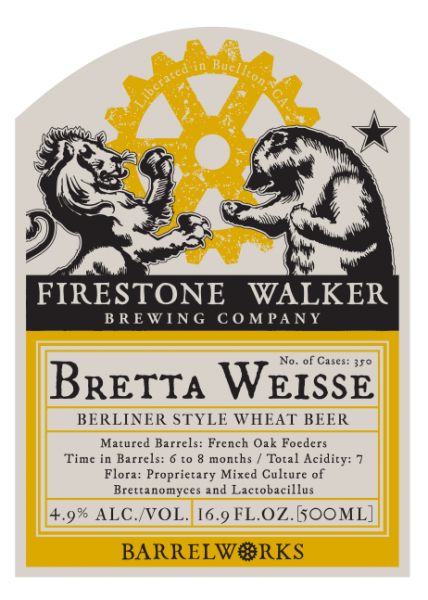 (Paso Robles, CA) : From Prussia with love comes Bretta Weisse, an untamed Berliner Weisse-inspired wheat beer set to be liberated from Firestone Walker Brewing Company's Barrelworks wild yeast facility on July 12.
"Napoleon called Berliner Weisse the 'Champagne of the North,' but we'd like to think that Bretta Weisse would render him speechless," said Barrelworks Director Jeffers Richardson.
Bretta Weisse underwent secondary fermentation with a proprietary mixed culture of brettanomyces and lactobacillus. Prior to bottling, Bretta Weisse was aged for eight months in 1,700-gallon French oak foeders. The final blend clocks in at 4.9 percent alcohol by volume. Only 350 cases of 500ml bottles were produced, and the beer will only be available at Barrelworks.
Barrelmeisters' Tasting Notes
Bretta Weisse's firm estery notes of stone and tropical fruit lead to funky, yeasty, citrus aromas. Soft cereal and oak flavors are enveloped by a firm acidity and tartness, leading to a dry, crisp finish. Imagine yourself in Berlin's Tiergarten enjoying this refreshing Berliner Weisse-inspired beer on a warm summer's day.
Bretta Weisse Liberation on July 12 @ Barrelworks
Barrelworks is closing its doors to the public on July 12 and inviting friends to join the private liberation of Bretta Weisse during two pre-purchase sessions:
· July 12 from 11 a.m. to 1 p.m. – SOLD OUT
· July 12 from 3:30 p.m. to 5:30 p.m. – GOING FAST
Pre-purchase RSVP is available here. Pre-purchase cost is $60 per person and includes: four bottles of Bretta Weisse, a souvenir tasting snifter, tastings of rare and one-off Barrelworks beers (while supplies last), and a 10 percent discount that day on food purchases at the adjacent Taproom Restaurant. Firestone Walker's barrel-aged 2014 Double DBA will also be released during the festivities, and will be available for tasting and purchase. A special little secret may be uncorked as well.
# # #
Firestone Walker's Barrelworks is a story of beer, barrels and unintended consequences, of renegade brewers, and of a pet project turning into a wild beast: www.firestonebeer.com/barrelworks