Terrapin Oaked Big Hoppy Monster Once Again Unleashed Upon The Masses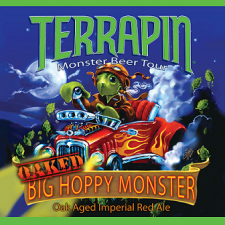 Rumbling onto shelves soon is Terrapin Beer Co.'s long-running imperial red ale: Big Hoppy Monster! As the founding member of the Monster Beer Tour series of high-gravity seasonal brews, this year's release gets an upgrade: Terrapin has aged the entire batch on French oak! Originally released in fall of 2004 in a nod to the state of Georgia raising the ABV limit from 6% to 14%, the oaked version of Big Hoppy Monster has previously been available to only a lucky few on draft.
"Oaked" Big Hoppy Monster Imperial Red Ale pours with a luscious garnet color. Expect this brew to lead with a big American-style hop aroma, that's quickly complemented by a monstrous malt backbone. With its rich oaky notes and hints of vanilla, this monster of a beer hits on all cylinders. Our "Oaked" Big Hoppy Monster is one enormous beer that goes down smooth, but watch out! This Monster bites!
ABV: 9.1% IBUs: 75 O.G.: 22.1
Hops: Bravo, Centennial, Cascade, Amarillo, Simcoe
Malt: 2-Row Pale, Munich, Caramalt, Crystal 77, Amber, Crystal 45
Oaked Big Hoppy Monster will be released in 12oz bottles (4-packs) and 1/6 barrel kegs in Terrapin's nine-state distribution range which includes the states of GA, FL, TN, AL, NC, SC, VA PA and NJ.
About Terrapin: Terrapin Beer Co. has a portfolio of three year-round beers, four Seasonal Session beers, the Monster Beer Tour collection of four high-gravity selections, and the Side Project Series highlighting one-time brewing improvisations. Terrapin is a regional craft brewery distributed in nine states including GA, FL, TN, AL, NC, SC, VA PA and NJ. The brewery has developed a reputation for high-quality beers that push the boundaries of creative brewing. The brewery is located at 265 Newton Bridge Road in Athens, GA. Regularly scheduled tours of the Terrapin Brewery are offered every Wednesday, Thursday, Friday and Saturday night from 5:30 – 7:30 pm with live music and tastings. The tours are an excellent opportunity to taste the full line of award winning beers and see the brewing process first hand. For more information visit www.terrapinbeer.com