Odell Mountain Standard Returns for Fall 2012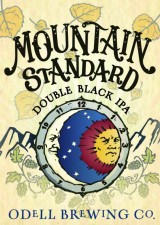 Fort Collins, CO. – On September 22, 2012, fall officially returns as does Odell Brewing Company's Mountain Standard. The brew, a double black IPA, was released in a four-pack for the first time last year.
Featuring hops grown on Colorado's western slope, the brew blends a rich, dark malt character with a crisp and bright hop aroma and flavor. The bold combination pairs well with brined or roasted meats, sharp aged cheddars, or bittersweet chocolate.
Mountain Standard was a featured "Craft Beer of the Day" on Forbes.com. "For a brew that clocks in at 9.5% ABV, Mountain Standard Double Black India Pale Ale is remarkably tasty," said Forbes contributor, Erik Kain. "It manages to be very strong and very delicious all at once, with a nice round flavor that lingers gently, leaving that perfect balance of bitter and sweet in your mouth long after you've drained your glass."
The brewery will celebrate the return of Mountain Standard in the Tap Room on September 22nd, during the Fall Equinox. Guests can try the beer, and enjoy local food truck fare as well as live music by The Constant Tourists from 4 – 6 p.m.
Mountain Standard is available from September – January within the brewery's ten state distribution footprint.
Founded in 1989, Odell Brewing was started by Doug Odell, his wife Wynne, and his sister Corkie. Twenty-three years later, the culture of family and collaboration still thrives fostering a brewery full of beer-centric people. It is this passion for beer that inspires Odell Brewing to create quality, hand-crafted, innovative brews. As a regional craft brewery, Odell Brewing is committed to serving the communities in which it distributes by sourcing local raw materials, and through its charitable giving program known as Odell Outreach. Odell Brewing was recently named a "Top Company of 2010" by ColoradoBiz Magazine and is an award winning brewery, nationally and internationally: 2012 Brewers Association Recognition Award, 2011 Great American Beer Festival® – gold medal for Friek. 2010 North American Beer Awards – gold medal for Woodcut No. 3. 2009 BrewNZ Awards – gold for 5 Barrel Pale Ale. 2008 World Beer Cup® – gold for IPA. 2007 Great American Beer Festival® – gold medal for IPA.