Terrapin Beer Co.'s Seasonal Sessions Line Go to 12 oz. Cans in 2015
(Athens,GA) – Terrapin Beer Co. is announcing a momentous change to their Seasonal Sessions line of beers in 2015. Beginning with the release of Mosaic Red Rye IPA in February, all four Seasonal Sessions beers will be packaged in 12 oz. cans rather than bottles.
The success of RecreationAle and HI-5, Terrapin's first two canned beers, prompted the brewery to invest in an extensive canning line in 2014. Installation was completed in July and not only allowed Terrapin to increase production of RecreationAle and HI-5 but also opened up the possibility of moving some current favorites from bottles into cans.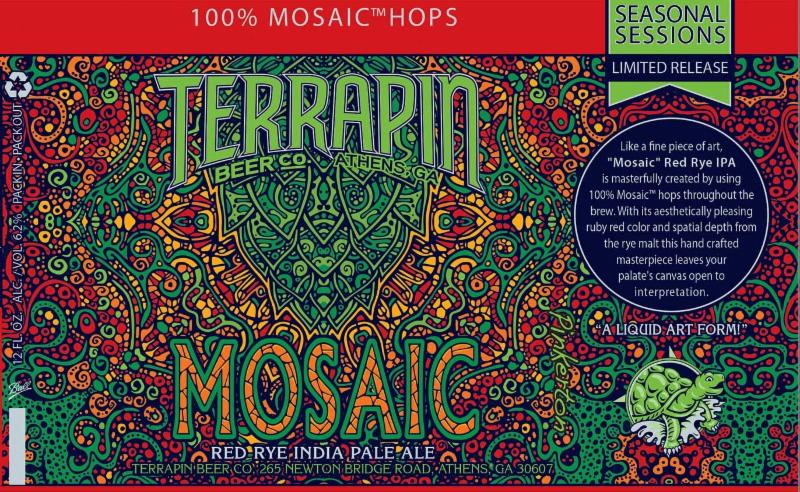 "We really see cans as a big part of the craft beer industry going forward," said Terrapin VP of Sales and Marketing Dustin Watts. "We wanted to increase the number of can offerings in our portfolio and felt that our Seasonal Sessions line was a great place to start."
The move from bottles to cans is advantageous in many ways. For the consumer, the change means Terrapin's popular seasonal beers–Mosaic, Maggie's Peach Farmhouse Ale, Pumpkinfest, and Moo-Hoo–will be sold in 6-packs rather than 4-packs. Also, Terrapin's seasonal beers are meant to be enjoyed in-the-moment. As cans are permitted in many outdoor venues where glass is prohibited, this means fans can enjoy a Terrapin Seasonal Session almost anywhere that moment strikes.
For Terrapin, the move to cans is driven by other factors. Compared to bottles, cans have a smaller environmental footprint. Cans are easily and more readily recycled by consumers and the cans themselves are infinitely recyclable. A can's lifecycle can be as short as 60 days from used can to recycling facility to new can back on shelves. And not only are cans lighter in weight than glass, twice the number of cans fit into a truck (Ed. note: or fridge…), meaning both lowered shipping and handling costs along the supply chain and less carbon emissions into the atmosphere. Cans are also impervious to light and air; these are beer's worst enemies and are responsible for "skunked" beer or cardboard-like off-flavors. Since light and air exist everywhere a beer will go, the move into cans will ensure Terrapin's Seasonal Sessions brews retain the absolute best quality with every stop from the brewery to the consumer's glass.
ABOUT TERRAPIN
Terrapin Beer Co. has a portfolio of six year-round beers, four Seasonal Sessions beers, the Monster Beer Tour collection of four high-gravity selections, and the Side Project series of one-time releases. Terrapin co-owners John Cochran, President, and Brian "Spike" Buckowski, Brewmaster, have developed a reputation for high-quality beers that push the boundaries of creative brewing. 
Terrapin Beer Co. is open to the public for tours every Wednesday, Thursday, Friday and Saturday night from 5:30 p.m. – 7:30 p.m. with live music and tastings. The brewery is located at 265 Newton Bridge Road in Athens, GA. The tours are an excellent opportunity to taste Terrapin's full line of award winning beers at their freshest and to see the brewing process first hand.