Terrapin Beer Co. Offers Hopsecutioner in 12-pack Cartons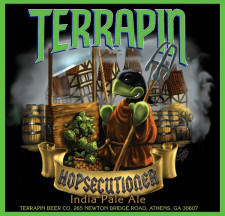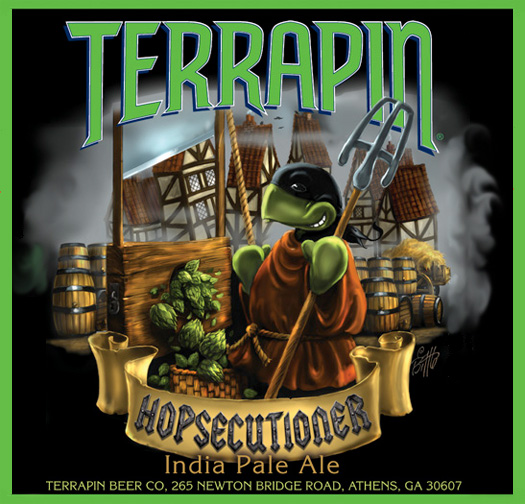 Athens, GA- February 22, 2013 Terrapin Beer Co. in Athens, GA, long known as a brewery that loves all things hoppy, is bringing more options to their hophead fans by packaging one of their most-loved beers in 12-pack cartons.
Hopsecutioner 12-packs began appearing on shelves in early February; outside of a 12-bottle variety pack that has since been discontinued, this is the first single brand the brewery has made available in a 12-pack format.
Though the brewery's flagship beer Rye Pale Ale (introduced in 2002) continues to sell well in all markets, over the past few years the brewery has turned their focus to Hopsecutioner, an American IPA released in 2009. Since Hopsecutioner's release, American IPA as a style has grown leaps and bounds in popularity to become one of the top selling craft beer styles in the United States. The consumer demand for IPA, paired with the limited selection of hop-forward beers in larger-quantity packaging, played a large role in determining which brand the brewery would release in 12-pack cartons. Terrapin's reputation as the premier IPA brewery in the Southeast along with the fact that Hopsecutioner is now the brewery's biggest seller solidified that decision; consumers love IPA, consumers love Hopsecutioner, and consumers love 12-packs!
ABV: 7.3% IBUs: 71 O.G.: 16.3
Hops: Warrior, Chinook, Centennial, Simcoe, Amarillo, Cascade (dry hop)
Malts: 2-Row Pale, Munich, Pale Crystal 24L, Victory
Hopsecutioner 12-packs are joining previously available packaging formats of 6-packs, 1/6 BBL kegs, and 1/2 BBL kegs and will be available throughout Terrapin's distribution network.
About Terrapin:
Terrapin Beer Co. has a portfolio of five year-round beers, four Seasonal Sessions beers, the Monster Beer Tour collection of four high-gravity selections, and the Side Project series of one-time releases. Terrapin co-owners John Cochran, President, and Brian "Spike" Buckowski, Brewmaster, have developed a reputation for high-quality beers that push the boundaries of creative brewing.
Terrapin Beer Co. is open to the public for tours are offered every Wednesday, Thursday, Friday and Saturday night from 5:30 p.m. – 7:30 p.m. with live music and tastings. The brewery is located at 265 Newton Bridge Road in Athens, GA. The tours are an excellent opportunity to taste Terrapin's full line of award winning beers and see the brewing process first hand. For more information visit the web site www.terrapinbeer.com or the Facebook page.