Latitude 33 Brewing Releases Coconuts on Rye Today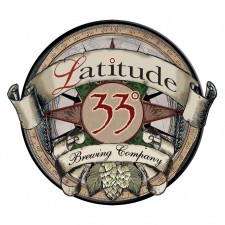 Today we're pleased to announce the long-awaited release of Coconuts on Rye, our American rye sweet stout brewed with 200 pounds of fresh-toasted coconut.
The beer was originally conceived as a limited release for the venerable SD TapRoom's 6th anniversary, but it became obvious to the HOBO early on that this one was going to be an outstanding beer, so he brewed a full 20 barrel batch — enough to ensure a full release here in San Diego county.
For those of you curious about the beer's specifics, the grain bill includes 2 row, Pale malt, Munich malt, Flaked rye, C-80, Chocolate, Roasted Rye and extra special malt (whew!). The hops are Northern Brewer and Willamette. The coconut — all 200 pound of which Kevin toasted in his oven at home — was added during the mash, at the end of the boil, and finally as a "dry-nutted" addition at the end of fermentation.
The coconut flavor is very pronounced, but blends amazingly well with the sweet malts and hoppy flavors. (We're beginning to think that the HOBO might know what he's doing.)
The beer's got a respectable 40 IBUs and the ABV is 7%. Simply delicious.
The SD TapRoom is slated to tap both the standard Coconuts on Rye and a special casked version this evening. Check the website for info.
We'll be putting the standard version on tap in the tasting room this afternoon at 3pm for tasters, pints and growler fills (and remember that 3-6:30 are our growler power hours on Thursday & Friday). It should also be hitting the taps of more discerning drafthouses throughout San Diego county in the next week, so make sure to check in with your favorite pub/restaurant to see if they've got it. (And if they do, tell us.)
Oh — and if you're a North County resident, Oceanside's Tap That is having a soft opening next Monday. The HOBO will be there and they'll be tapping a keg of the Coconut, so you'll have an opportunity to enjoy a beer with him.