Terrapin and Shmaltz Team Up for Reunion Ale '12 – A Beer For Hope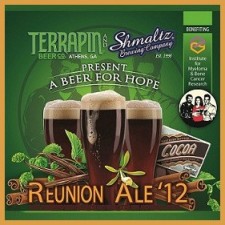 Terrapin Beer Co. and Shmaltz Brewing Team Up to Raise Funds for Myeloma & Bone Cancer Research – Reunion Ale '12: A Beer For Hope
Reunion 2012! Terrapin Beer Co., Shmaltz Brewing, and Alan Shapiro (founder of SBS Imports) have once again joined forces in one of the most unique and worthwhile collaborations in craft beer. One beer style, two great breweries, and one great cause… The Reunion: A Beer for Hope fundraising campaign. Each brewer starts with the same basic beer style and list of adjuncts, and then all bets are off! The result is two beers that are the same and yet totally different! The whole effort is to raise funds to support the Institute for Myeloma & Bone Cancer Research in the name of Virginia MacLean, who succumbed to the disease in 2007. "The Reunion project highlights the unique style each individual brewer brings to their beer, as well as to the collaborative and generous nature of our industry." says Brian "Spike" Buckowski, Terrapin brewmaster and co-founder, "It's a feel good project and a fun tasting experience."
This year's beer is a dark ale brewed with cinnamon, vanilla, and cocoa. Like last year's brew, the cocoa nibs and shells were sourced from southern artisan chocolate maker Olive and Sinclair Chocolate Co. in Nashville, TN. It reminds us of a rich mug of Mexican hot chocolate! The beer will be available in 22oz bottles and on draft, and will be available in all of Terrapin's markets starting in late July.
HOPS: Willamette
MALT: Pale 2-Row, Victory, Special Roast, Crystal, Brown Malt, Chocolate
OTHER: Dextrose, Cinnamon, Cocoa Nibs and Shells, Vanilla
ABV: 7.9% OG: 17.5 IBUs: 38
The Cause: Virginia MacLean died from complications from her Multiple Myeloma on June 4, 2007. Virginia was not only the inspiration for the REUNION- A Beer for Hope project (now in its sixth year), but an active participant in every facet of its creation. It was her wish that we continue the mission of raising funds for IMBCR and bringing hope to others. Her dream and memory ware carried forward by her fellow Reunion founders Paul McErlean, brewmaster at Shmaltz Brewing Co., and Alan Shapiro, who worked with Virginia at Pete's Brewing Company during her initial illness.
Worldwide, over 1,000 people per day are diagnosed with this cancer of the plasma. IMBCR is one of the world's leading independent researchers. Their work not only affects myeloma patients, it also produces benefits in areas such as lymphoma and breast cancer.
About Terrapin:
Terrapin Beer Co. has a portfolio of three year-round beers, four seasonal beers, the Monster Beer Tour collection of four high-gravity selections, and the Side Project series of one-time releases. Terrapin has developed a reputation for high-quality beers that push the boundaries of creative brewing. Tours of the Terrapin Brewery are offered every Wednesday, Thursday, Friday and Saturday night from 5:30 p.m. – 7:30 p.m. with live music and tastings. The brewery is located at 265 Newton Bridge Road in Athens, GA. The tours are an excellent opportunity to taste Terrapin's full line of award winning beers and see the brewing process first hand.
###