SweetWater Brewing Getting a Quick Start in 2012!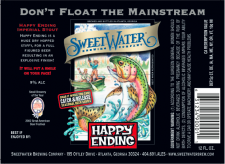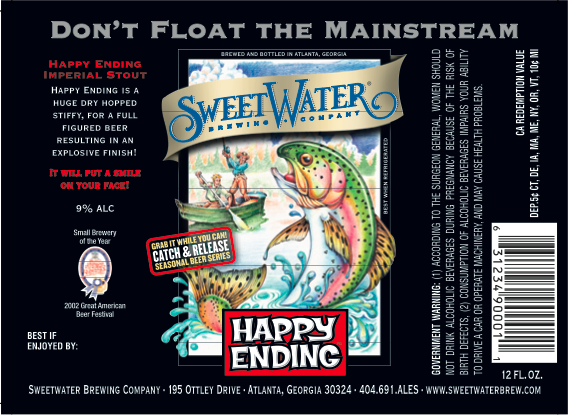 SweetWater Brewing announces many exciting news items for 2012, as well as a discontinuation of some products. Read on for your SweetWater fix. Cheers!
ATLANTA – With phase 1  of the brewery expansion almost complete, SweetWater Brewery is jumping into 2012 head first with a Happy Ending to 2011, a return of the Exodus Porter, and a sneaky peaky at the full 2012 release fishing calendar.  Another nice year of growth for SweetWater combined with a boatload of tasty brews on the horizon is shaping 2012 up to be a keeper for craft beer fans throughout the southeast.
As 2011 comes to a close and 2012 begins we see the return of the Happy Ending, and smiles on the faces for all.  This Catch and Release dry-hopped imperial stout seasonal offering is only available from now till the very early days of March, and can be found in 22 oz wax dipped bombers, six packs, and on draft in the headier beer bars around the South.
The brewery's most decorated beer, with Gold and Silver medals from the Great American Beer Festival and the World Beer Cup, Exodus Porter had only been available in the Tackle Box variety twelve packs until now. Beginning in mid-January Exodus will return to the shelves in six packs and onto tap walls around Atlanta and beyond.
That's just beginning to scratch the itch for SweetWater in 2012. This summer look for the return of the Waterkeeper Hefeweizen created to raise funds and awareness for local Waterkeeper Alliance members, and the introduction of a new year round offering the LowRYEder – a dry hopped rye ale originally created for the Crank Tank series and Camp Twin Lakes' Spin for Kids campaign. LowRYEder is a flame throwin' Rye IPA ignited by a 25% shot of rye malt capped by a super hoppin' blast of Mt Hood and Centennial hops making this IPA bounce!  Other treats to keep your eyes and lips peeled for are three new editions from the Dank Tank random release series. 420India Pale Ale, a big ol dry hopped version of the 420 out in mid-January, The Gimp, a bottle conditioned brew worthy of only the finest beer cellars, and the return of The Creeper, a Belgian triple due out in 4 packs late in the year.
The Atlanta-based brewery, which is celebrating their 15th anniversary with a release of an anniversary brew in February, has shown steady  growth since its inception in 1997 closes out 2011 with 25% growth over 2010 and more than 95,000 barrels sold (that was max capacity in 2011, and why the brewery is expanding to quintuple its capacity). Contributing to the success is SweetWater's variety of year round offerings, rotating seasonals and experimental creations. Sadly for some fans Sch'Wheat will be discontinued to make room for all the new brews this new year will offer.
About SweetWater Brewing Company: SweetWater Brewing Company is an Atlanta-based craft brewery specializing in aggressive West Coast style beers. SweetWater's brews are unpasteurized and designed to be consumed fresh so distribution is limited to the Southeast. The award-winning lineup of year-round brews includes SweetWater 420, IPA, Exodus Porter, Blue, LowRYEder and Georgia Brown.  SweetWater also features a Catch and Release series of beers available on a limited basis throughout the year, and an experimental, one-time-only Dank Tank series. The SweetWater Brewery, open for tours every Wednesday, Thursday and Friday from 5:30-7:30 p.m. and Saturdays from 2:30-4:30 p.m., is located at 195 Ottley Dr NE, Atlanta GA 30324. For more information about SweetWater Brewing Company, please visit www.sweetwaterbrew.com. For up-to-the-minute information about SweetWater Brewing Company follow @sweetwaterbrew on Twitter and become a fan on Facebook:www.facebook.com/sweetwaterbrew.