Bayou Teche Brewing Releases Courir de Mardi Gras Biere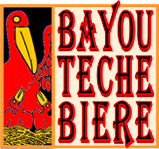 Arnaudville, LA – Arnaudville's Bayou Teche Brewing is releasing Courir de Mardi Gras, the brewery's first seasonally produced beer. This limited edition beer honors Acadiana's rural Mardi Gras traditions and is brewed as a Biere de Mars – a centuries old French style of farmhouse seasonal brew.
Says Bayou Teche's brewmaster Karlos Knott, "Very few bottles of Biere de Mars are brought to the States from France. They are brewed in such small batches and are only released in March (Biere de Mars translates to March beer). These French beers are traditionally crafted at the beginning of winter with the farm's freshest crop of barley, wheat and hops. The farm's brewers then spend months aging what they consider their finest beer of the year."
Continues Knott, "Bayou Teche Brewing's Courir de Mardi Gras is our artisanal version of this elegant French ale. Biere de Mars is historically crafted with Pilsner, Munich, and a large dose of wheat malt – the wheat lends the beer a distinct, Spring-like quality." When the brewers at Bayou Teche discovered this French style of ale, they decided to seasonally brew batches for South Louisianan's pre-Lenten celebrations.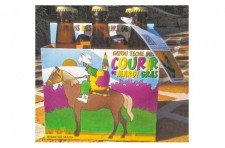 With originations in rural and Medieval France, several rural Cajun communities still celebrate the traditional Courir de Mardi Gras. Although there are variations, each Courir has a Le Capitaine who leads masked and costumed revelers on horseback to beg and gather ingredients for the large communal gumbo that lies at the end of their journey. A prized ingredient is a live chicken, which is often thrown into the air for the celebrants to chase through muddy fields.
Bayou Teche Brewing features organizations on the bottom of their six pack boxes that are working to preserve the unique cultures and environment of South Louisiana. For their Courir De Mardi Gras Beer, Bayou Teche's Dorsey Knott says, "we wanted to recognizethe important work that Valcour Records is doing to preserve and showcase great Louisiana talent and roots music on the world stage. Valcour's co-founders recognized that there was a remarkable wealth of talent in Acadiana that was under-represented and under-exposed. We wanted to thank them for the important work that they are doing."
In conjucntion with the beers release, Valcour records is releasing their newest CD, The Best of Valcour Records Volume I. Said Valcour Records co-founder Joel Savoy, "This CD was created through a partnership with Bayou Teche Brewing Company and is designed to accompany their seasonal Mardi Gras beer: Courir de Mardi Gras. As you might expect, this CD makes a great sound track for any Mardi Gras celebration, just as the beer makes for a great beverage!" Courir de Mardi Gras six-packs will include a free download from the Best of Valcour Records CD Volume I CD.
The limited editon, seasonal batch of Bayou Teche Brewing's Courir de Mardi Gras is now available in six packs and kegs across Louisiana, Mississippi and Alabama.