SweetWater Brewery Offers up a "Tackle Box" of Tasty Brews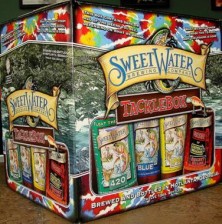 ATLANTA,GA – SweetWater Brewery has released the newest addition to their award winning lineup. The SweetWater Tackle Box variety pack is a hefty collection of year round brews along with a "Secret Stash" brew in each box.
This new package will be released in short runs, and therefore only available for a limited time as they tease the taste buds of craft beer lovers throughout the southeast beginning in Atlanta mid November. Sure to be the crowd pleaser when this gets laid out on the bar at your next holiday party.
The Tackle box will be stocked up with three of SweetWater's most popular year round favorites plus a style that is a little something special. The box will always feature a few bottles each of the 420 Extra Pale Ale, SweetWater's flagship west coast style pale ale, the SweetWater Blue, a lighter bodied wheat ale with hints of fresh blueberries, and SweetWater's IPA, an unfiltered dry hopped to the gills India Pale Ale. The "Secret Stash" will change each time the package is produced and will vary based on the season. The "Secret Stash" could be the newest Catch & Release seasonal, an offering from the Dank Tank experimental series or a sneak peak at a style SweetWater is looking at for the future. You'll have to crack open a case to find out.
The process of putting something like this together was a labor intensive and logistical challenge for SweetWater.  Steve Farace, SweetWater's Minister of Propaganda, remembered "We had this package designed 7 years ago when we were still cranking out brews in our original brewery out off of Fulton Industrial Blvd., but we just couldn't pull together all the pieces to put it into motion."  With the brewery's passion for the freshness of their beer, as their unpasteurized beer is best within 90 days, SweetWater had to look to outside help to make sure these cases got put together quickly, and into their wholesalers hands within hours of the beer being ready.
To make that pipe dream a reality, SweetWater Brewery has partnered with EnAble of Georgia, whose mission is "Enabling individuals with developmental disabilities to live full and independent lives in the community". EnAble of Georgia has hand packed all of these cases.  According to Amy Hines, EnAble's Coordinator of Day & Employment Services, "our staff feels so good about being part of the community and also takes great pride in working with SweetWater directly to exceed their expectations".
Also featured on the new Tackle Box variety pack is SweetWater's partnership with the Atlanta Humane Society.  With the tagline of "Adopt your next drinking buddy" the top panel of the Tackle Box features a unique web address encouraging people who are looking for their next dog to go to www.atlantahumane.org/sweetwaterbuddy.asp to find that lucky little guy or gal.  Farace said "the relationship with the Atlanta Humane Society has been in our blood for years.  The majority of the folks who work for SweetWater have dogs, and we always encourage folks looking for their next drinking buddy to look first at the Humane Society.  They do amazing work down there, but there are still so many dogs that need a home, and hopefully the info and reminder on our packaging will get a few more four legged friends into some loving homes."