SweetWater Announces Browneyed Buckeye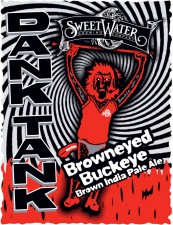 BUSTED! BROWNEYED BUCKEYE IS DISCOVERED HIDING OUT IN ATLANTA
SweetWater Brewing Company's Latest Dank Tank Series Creation Goes Public
ATLANTA – The Atlanta-based craft brewery debuts the Browneyed Buckeye, the latest creation in their Dank Tank Series, brewed only when the itch gets so bad, they just have to scratch it. More than a beer, the Browneyed Buckeye radiates qualities of integrity, innocence, eh never mind, but just like an infamous college football coach, it is a "senatorial and legendary" Brown Double India Pale Ale!
The brew was inspired by a true story so bizarre it hardly makes sense, and for those who have not read a newspaper lately, the brewery explains: "Our sweet, innocent and moral El Dressel lost his way as Brutus led him down a dark alley to recruit tattoos and car loans for the Columbus hops in an effort to stack his on-field Double IPA recipe with the most aggressive hops O-around. Unfortunately El Dressel was discovered, humiliated and banished, leaving a permanent wrinkle in his sweater vest and instantly creating the Browneyed Buckeye! Get it while you can, because just like last year's Sugar Bowl win, this one will be gone before you know it!"
It will be draft only, and with 8.5% Alc/Vol the Browneyed Buckeye is not as wholesome as it appears. Like former Dank Tank Series treats, it will only be around until its super limited supply is gone – or until its lawyers decide it can't hide its dirty secrets any longer. Faithful fans can follow all the action at twitter.com/sweetwaterbrew or facebook.com/sweetwaterbrew.
SweetWater Brewing Company and its affiliated retailers accept cash, debit and credit only; memorabilia will not be accepted as a form of payment. Sorry, beer lovers!
About SweetWater Brewing Company: SweetWater Brewing Company is an Atlanta-based craft brewery specializing in aggressive West Coast style beers. SweetWater's brews are unpasteurized and designed to be consumed fresh so distribution is limited to the Southeast. The award-winning lineup of year-round brews includes SweetWater 420, IPA, Sch'Wheat, Blue and Georgia Brown.  SweetWater also features a Catch and Release series of beers available on a limited basis throughout the year, and an experimental, one-time-only Dank Tank series. The SweetWater Brewery, open for tours every Wednesday, Thursday and Friday from 5:30-7:30  p.m. and Saturdays from 2:30-4:30 p.m., is located at 195 Ottley Dr NE, Atlanta GA 30324. For more information about SweetWater Brewing Company, please visit www.sweetwaterbrew.com.