Flying Dog To Reinstate Brewery Tours in Frederick, MD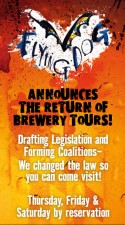 Frederick, MD – Flying Dog Brewery tours return starting July 1.
Tours will be offered every Thursday and Friday from 4 to 6 pm, along with two sessions on Saturday (12 to 2 pm and 2:30 – 4:30 pm).
Each intimate session will include a history of Flying Dog, an in-depth tour of the brewing facility – including the brew house, cellar, quality assurance lab, and packaging areas – as well as samplings and sensory explorations of some of the 18 draft beers available at any given time.
Flying Dog has not offered public tours since December 2009, when they placed a self- imposed hiatus on tours to focus on updating Maryland beer sampling laws. Drafting legislation and forming a coalition of other Maryland breweries, retailers and wholesalers, Flying Dog embraced its Gonzo spirit and took an active role to update some outdated laws to better reflect the climate of craft beer in the state.
Those updates unanimously passed and were signed by the Governor to go into effect July 1.
The revisions allow consumers to sample a broader range of beer styles and enable them to purchase beer "to go" after a tour. Patrons can now purchase up to 288 ounces of beer (equivalent to four 6-packs) to be consumed off premise.
Tour participants can also pay $5 at the beginning of their tour to keep the commemorative tasting glass. The brewery's gift shop will also be open with a full range of Flying Dog merchandise available for purchase.
Flying Dog will begin taking reservations for tours on June 16. Reservations can be made by calling Flying Dog Brewery at 301-694-7899 Monday through Friday from 10 am to 4 pm. To limit long waiting lists, reservations will only be accepted up to six weeks in advance.
About Flying Dog Brewery:
"Good Beer, No Shit." Located in Frederick, MD, Flying Dog is Maryland's largest brewery. As their tagline proclaims, Flying Dog is committed to producing world-class craft beer and continues to push the envelope with experimental and limited-edition releases. Recent accolades include Doggie Style Classic Pale Ale ranked as the #1 American Pale Ale in the U.S. by The New York Times and Raging Bitch Belgian-Style IPA named one of the best new beers in 2010 by multiple sources. For more information, please visit www.flyingdogales.com.