Sun King Brewery Celebrates Opening of Sun King Spirits Tap Room & Distillery
(Carmel, IN) – Sun King Brewery, a leader in the independent craft beer movement in Indiana, is excited to raise a glass to toast the opening of its new 15,000-square-foot craft distillery and tap room in Carmel, Ind., overlooking the Monon Greenway.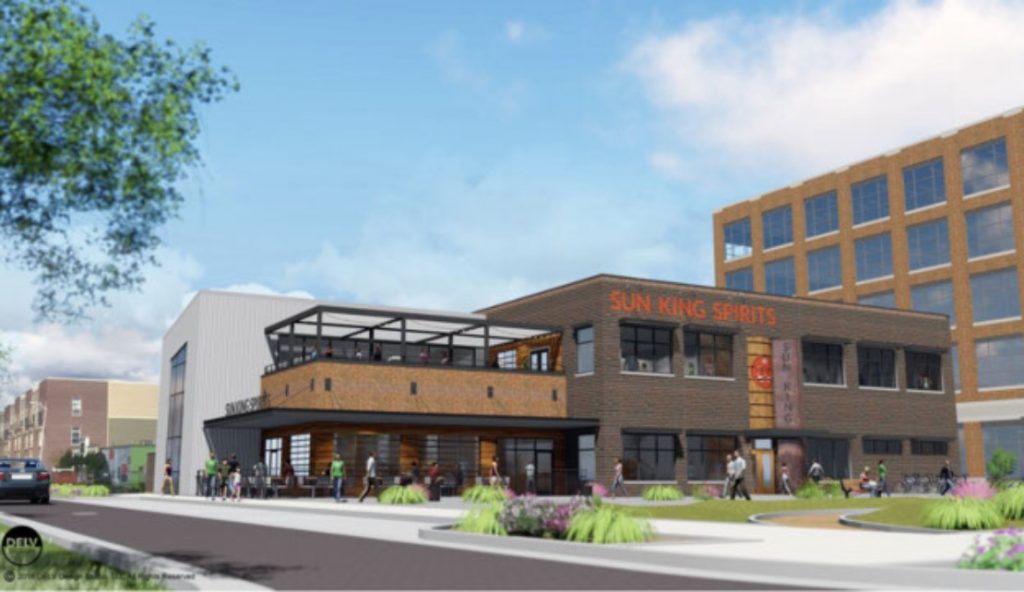 "We are thrilled to celebrate the opening of Sun King Spirits Tap Room and Distillery in Carmel and are excited to give Hoosiers a great experience while enjoying our craft beer, artisanal spirits and delicious local food overlooking the beautiful Monon Greenway," said Clay Robinson, co-founder of Sun King Brewery. "We'd like to thank all of the collaborative, entrepreneurial partners who made this happen, including our local and regional distillery partners, the three local restaurants in our tap room, Mayor Brainard and the City of Carmel, Carmel's Old Town Development team, and all of the assertive individuals that helped change Indiana's laws to allow breweries to also operate distilleries."
For the grand opening, Sun King collaborated with regional distilleries to produce four limited-release spirits. At Sun King Spirits Tap Room and Distillery, guests can sample those spirits, which were distilled in conjunction with Indianapolis' Hotel Tango (No Mean City gin) and 8th Day Distillery (Dancehall Panic Jamaican-Style rum); Bloomington, Ind.-based Cardinal Spirits (Bird Royale neutral spirit); and Louisville's Copper & Kings (Cr&ftwerk brandy aged in Sun King's Lonesome Dove beer barrels).
The Tap Room offers a wide variety of Sun King beers on thirty-two taps, as well as handcrafted, signature cocktails and slushies made with fresh, local and regional ingredients whenever possible and created by Steven Unrue, culinary director at Sun King. Some examples include the Matcha Bird made with Bird Royale Spirit, matcha, honey, passionfruit and Topo Chico finished with a Sumac sugar rim; and the Pachangarita made with Sun King's Pachanga Mexican-Style Lager, Reposado, limeade and lime sparkling water. Soon, Sun King Spirits will produce high-quality, handcrafted, small-batch spirits such as artisan moonshine, agave spirit, gin and rum, as well as an aged, small-batch whiskey. Seasonal spirits will also be available at limited times throughout the year.
Guests can also enjoy a wide and delicious variety of eats from three local, independently-operated restaurants at Sun King's modern food hall, which is located inside the Tap Room and Distillery. Food offerings include delicious Mexican food from La Margarita; gourmet charcuterie, sausages and sandwiches from Oca; and handcrafted, brick-oven pizza and seasonal salads from Pi. A gourmet burger restaurant will open inside the Tap Room soon. Guests can order at each of the restaurant's, 100-square-foot food stalls designed to invoke the spirit of the Monon Railway, and enjoy their food and drink together throughout the Tap Room, or on the rooftop patio.
Customers will be able to purchase beer, spirits and Sun King's unique mixers to-go from the Tap Room and Distillery in order to recreate and enjoy Sun King's unique creations at home.
History: In 2013, several individuals including Omar Robinson, co-founder and board member of Sun King; Nick Floyd, head brewer and co-founder of Three Floyds Brewing; and Ted Huber, master distiller at Starlight Distillery, collaborated to get Indiana's laws changed in order to allow an already-licensed brewery, winery or distillery to obtain a permit to produce and sell spirits by the glass, bottle or case. Previously, Indiana distillers could sell only to distributors, never to the public. Currently, there are fewer than a dozen active artisan distilleries in Indiana.
Drawing inspiration from Indiana, Sun King has produced more than 500 different beers since 2009, dozens of which have been awarded national and international medals.
About Sun King Brewery
Sun King Brewing Company is the brainchild of Dave Colt and Clay Robinson. With the help of family and friends – Omar Robinson, Andy Fagg and Steve Koers – the first keg of Sun King beer rolled out the door for delivery in July 2009. Now available on tap and in cans throughout Florida, Indiana, Illinois and Louisville, Ky., Sun King has grown into a leader in the independent craft brewing movement. Sun King's brewers hand craft core, seasonal and specialty beers that have been rewarded with multiple medals at the Great American Beer Festival, World Beer Cup and Indiana Brewers Cup competitions. Sun King also partners with hundreds of community organizations throughout Indiana in order to help them raise awareness and funds for great causes. Visit www.sunkingbrewing.com for more information. Sun King Brewery is also on Facebook, Twitter and Instagram.