Sun King Brewery Announces New Facility for The Yard at Fishers District
(Indianapolis, IN) – Sun King Brewery, a leader in the independent craft beer and spirits movements in Indiana, is excited to announce the development of a new, 13,000-square-foot, specialty production craft brewery and tap room at The Yard at Fishers District in Fishers, Ind., which is projected to open in late spring of 2019.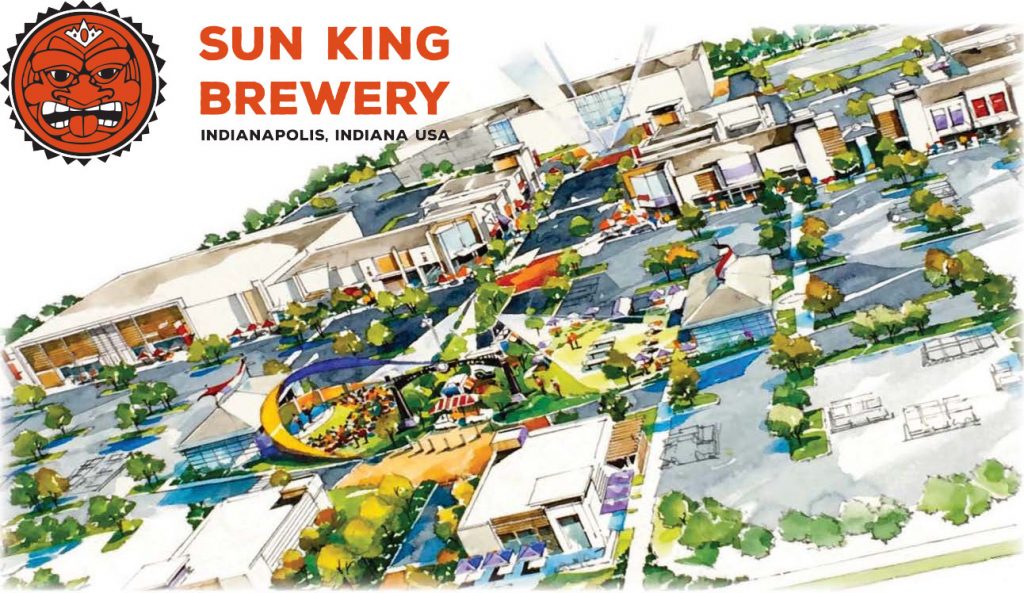 Awarded with a variety of national and international medals for producing specialty and seasonal brews like Cherry Busey (2016 bronze medal, Great American Beer Festival) and Magpie Muckle (2016 silver medal, Great American Beer Festival), Sun King's new brewery will focus on developing handcrafted, distinctive specialty beers that continue to experiment with different ingredients, styles and methods. Sun King's further expansion is in part thanks to changes, spearheaded by Sun King and Three Floyds, in Indiana's legislature in 2015 that increased barrelage limits for small breweries in the state. Sun King's new Fishers brewery will be capable of producing approximately 5,000 barrels of beer per year.
"Sun King Brewery started in a space about the size of what we are building in Fishers, intent on experimenting with new ingredients and techniques to create what we love – delicious, quality craft beer inspired by all that is Indiana," said Clay Robinson, co-founder of Sun King Brewery. "And while we've grown rapidly over the years, we remain committed to crafting the highest quality beer and are excited to open a new brewery that allows us to get back to our roots and to continue to innovate."
Customers will be able to taste and purchase a wide variety of Sun King's core, seasonal and specialty beers, along with spirits produced by Sun King Spirits in Carmel, on each of the brewery's two levels, including a 3,000-foot rooftop patio. Carry-out beer will also be available for purchase. Specific areas of the facility will be family friendly for all ages, such as the ample greenspace that opens to The Yard on the main level. The brewery will also include rental space for private and community events.
Thompson Thrift Retail Group (TTRG) are the developers and land owners of The Yard at Fishers District. The TTRG development and leasing teams worked very closely with Sun King and the city to secure its location at The Yard that will be adjacent to a Culinary Accelerator, which is a partnership between the City of Fishers and Launch Fishers to develop burgeoning chefs and bring new restaurant concepts to the City of Fishers. The Culinary Accelerator will feature three food stalls that are open to the public and serve as an amenity to Sun King's guests. Additional details about the Culinary Accelerator and its tenants will be released later in 2018.
"Sun King's new specialty brewery will be an exciting addition to the Fishers District," said Fisher's Mayor Scott Fadness. "We're incredibly proud of the collaboration between the City of Fishers and iconic Indiana businesses like Sun King Brewery that are fueling the growth of projects like the Fishers District that will attract residents and visitors, alike."
The Sun King Specialty Production Brewery at the Yard at Fishers District will be located at 116th Street and IKEA Way.
###
About Sun King Brewery
Sun King Brewing Company is the brainchild of Dave Colt and Clay Robinson. With the help of family and friends – Omar Robinson, Andy Fagg and Steve Koers – the first keg of Sun King beer rolled out the door for delivery in July 2009. Now available on tap and in cans throughout Indiana, Chicago and Louisville, Ky., Sun King has grown into a leader in the independent craft brewing movement, and will open a craft distillery and tap room in Carmel, Ind. in 2018, where it will produce high-quality, handcrafted, small batch spirits. Sun King's brewers hand craft flagship, seasonal and specialty beers that have been rewarded with multiple medals at the Great American Beer Festival, World Beer Cup, and Indiana Brewers Cup competitions. Sun King also partners with hundreds of community organizations throughout Indiana in order to help them raise awareness and funds for great causes. Visit www.sunkingbrewing.com for more information. Sun King Brewery is also on Facebook, Twitter and Instagram.
About City of Fishers
The City of Fishers is a suburb of Indianapolis, Indiana, located in Hamilton County. Under the leadership of Mayor Scott Fadness, Fishers is known as a smart, vibrant, and entrepreneurial city through its neighborhood development, dedication to supporting high-growth companies, and innovative city processes. With a population of 86,459 (2016), Fishers, named the #1 Best Place to Live in the U.S. by Money Magazine in 2017, is one of the fastest growing communities in Indiana and has received national accolades for entrepreneurship, livability, and safety.
About Thompson Thrift
Thompson Thrift is a full-service real estate development and construction company with offices in Terre Haute, Indianapolis, Phoenix, AZ, and Houston, TX. Thompson Thrift is engaged in all aspects of acquisition, development, construction and leasing of quality retail, office, mixed-use and multifamily projects nationwide. To learn more about the company, please visit www.thompsonthrift.com.