Stony Creek Brewery to Release Ripe 'N' Cranky Juiced IPA Cans
(Branford, CT) – Stony Creek Brewery announces the release of Ripe 'N' Cranky Orange, the first of its Juiced India Pale Ale (IPA) series. This Brewery favorite is set to be released in cans October 1. Ripe 'N' Cranky Orange is one of three unique versions that will be featured throughout the year, each blending distinct versions of their flagship Cranky IPA with fresh, cold pressed juice from New Haven, Connecticut's RIPE™ Fresh Juice. The result is an IPA with a fresh squeezed taste and perfect hoppy harmony. The 16oz. cans will be sold in 4 packs throughout all markets where Stony Creek Beer is available.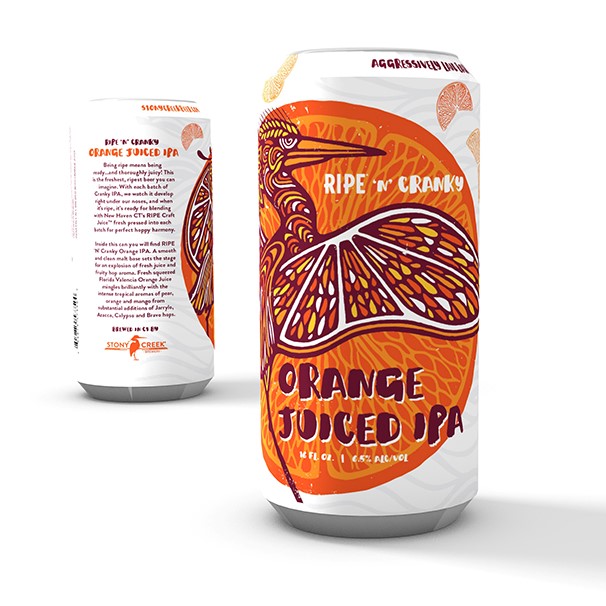 The series will rotate three times per year. Valencia Orange Juice will be highlighted in the fall. Winter will see the use of Costa Rican Pineapple Juice and summer fresh Ecuadorian Passion Fruit Juice.
"Creating a beer in this way is super exciting," says Stony Creek Brewmaster, Andy Schwartz. "It really is the essence of creativity and flavor development. We are able to take the freshest cold pressed juice in the world and blend it with lush tropical hops to create the ultimate juicy IPA."
Ripe means ready. Ripe 'N' Cranky IPA is the freshest, ripest beer one can imagine. It is crafted for flavor and aroma then blended with RIPE Craft Juice™ fresh pressed into each batch for a perfect hoppy harmony.
"RIPE Craft Juice™ is created to bring real fresh juice to market and to truly connect the farmer to the consumer." notes RIPE™ founder Michel Boissy. "Our approach is simple, start with the best fruits, and offer up a juice that surpasses all others in freshness and taste. With this approach, we feel a real synergy with Stony Creek Brewery, the way they operate and the products they release. We can't wait to explore the possibilities these flavor combinations present."
Ripe 'N' Cranky Orange IPA is described as having a smooth and clean malt base that sets the stage for an explosion of fresh juice and fruity hop aroma. Fresh squeezed Florida Valencia Orange Juice mingles brilliantly with the intense tropical aromas of pear, orange and mango. This profile is derived from substantial additions of Jarrylo, Azacca, Calypso and Bravo hops at 6.5% alcohol by volume.
"We couldn't be more pumped about this collaboration," says Edward J Crowley, Stony Creek Brewery's President. "Local is a powerful force in our industry right now, and it doesn't get more authentically local than this partnership with our friends at RIPE™ who happen to make some of the best juice in the world, just 10 minutes from our brewery."
Stony Creek Brewery, LLC, is a member of both the Brewers Association and the Connecticut Craft Beer Guild and is distributed in;
Connecticut: Dichello Distributors, Hartford Distributors, Levine Distributing
Maine: Federal Distributors, Maine Distributors, National Distributors, Valley Distributors
Massachusetts: Horizon Beverage, Quality Beverage, Williams Distributing, Girardi Distributors
New Hampshire: Amoskeag Beverages
New York: D. Bertoline & Sons
Rhode Island: Horizon Beverage
Vermont: Ferrell Distributing
stonycreekbeer.com – twitter – facebook – instagram