Stone Crime and Punishment Release Details
(Escondido, CA) – It takes a certain beer to stand up to the world's hottest chile peppers, and it takes a certain kind of person to drink a beer infused with the world's boldest, fiery chilies – they are called masochists. Only pain-seeking individuals, or the most audacious beer enthusiasts, have the palate,stamina and discerning taste to handle such a beer. So, it's best for average imbibers to move on and opt for something familiar, lightweight and chock-full of additives that a multi-million dollar ad campaign has convinced them they actually like. That's right, put the fancy black 500ml bottle with fierce writing down and head for the 24-pack of cans. But for those who dare sample this mysterious beer: You're in for something special, unforgettable and unforgivingly spicy.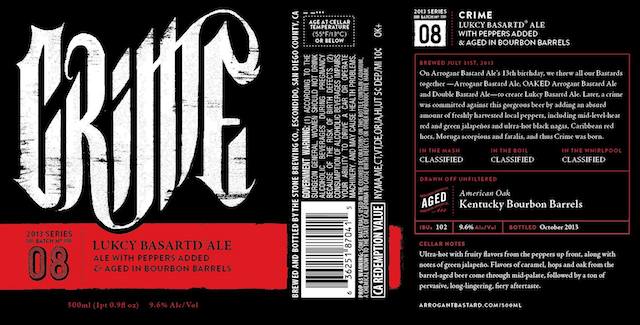 Leave it to Stone Brewing Co. to bring the heat with the releases of Crime and Punishment, two barrel-aged beers loaded with 15 kinds of chile peppers. Crime is Lukcy Basartd Ale with peppers added and then aged in American oak Kentucky bourbon barrels, while Punishment is Double Bastard Ale with added peppers aged in American oak Kentucky bourbon barrels.
Those willing to try Crime should expect a beer that's ultra-hot (that's actually an understatement), with fruity flavors and notes of green jalapeño. Flavors of caramel and oak borne from the aging come through mid-palate, followed by a pervasive, long-lingering, fiery hop laced aftertaste.  Punishment is brutal. It also leads with ultra-hot and fruity chile flavors along with subtler green pepper notes. Intense caramel, butterscotch and bourbon flavors make a strong appearance mid-palate, and the beer finishes with a long-lasting, fiery after burn. Both beers are incredibly hot and overwhelmingly powerful. Be warned, although these beers sound similar, they are very different. Any that dare to try them should approach with extreme caution – don't say we didn't warn you!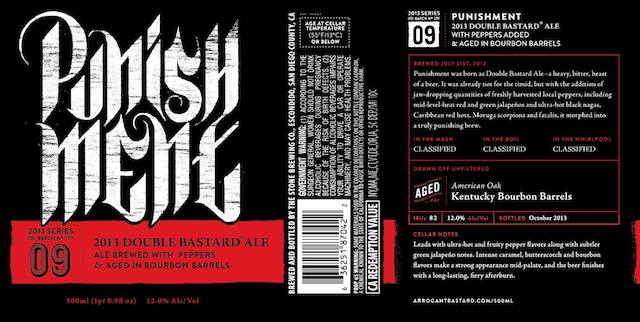 The peppers used to create this searing duo were sourced from Stone's own farmstead as well as a few local suppliers. The list of scorching edibles includes: red and green jalapeños, Fatali, Caribbean Red Hot, Habanero, Ghost, Black Naga, Super, Morunga Scorpion, 7 Pot, Aji Amarillo, Scorpion, Giant White Habanero, 7 Pot Douglah and Douglah.
Both beers are ready to enjoy now, or may be properly cellared for months or years. If cellared, the spicy and hoppy notes of Crime will slightly subside, while the sweet flavors of bourbon will deepen. The oak that is more prominent in Punishment, as well as the peppers, will begin to diminish (and perhaps become more palatable) as the bourbon becomes more noticeable.
With a new facility dedicated to the aging and bottling of these rarities, the beers may not actually be so rare in coming months. With more than 1,300 barrels, ranging from bourbon to wine, brandy and Scotch whisky, the company has plans to release future Quingenti Mililitre nationwide.
"Expanding our barrel-aging program to include national distribution is something we've been working towards for many years," said Stone Brewmaster Mitch Steele. "Now that we have the ability to produce more of the Quingenti Mililitre series due to our new aging and bottling facility, our fans should expect to see many new aged flavor combinations as well as some re-brews of favorites we've released in the past."
"Barrel aging opens up a whole new spectrum of possible flavor combinations when it comes to beers," said Stone Research and Small Batch Manager Steve Gonzalez. "You get some flavor from what was in the barrel before, whether wine or spirits, and then you get the wood flavors as well. Experimenting with various flavor combinations from the beers and the barrels is really intriguing, and I'm excited to share what we've been working on for months with our fans."
Name: Crime
URL: arrogantbastard.com/500ml
Stats: 9.6% ABV, 102 IBUs
Hops Bill: CLASSIFIED
Availability: AK, AL, AZ, CA, CO, CT, DC, DE, FL, GA, IA, ID, IL, IN, KS, KY, LA, MA, MD, ME, MI, MN, MO, MT, NC, NE, NH, NJ,NM, NV, NY, OH, OR, PA, RI, SC, TN, TX, VA, VT and WA
Name: Punishment
URL: arrogantbastard.com/500ml
Stats: 12% ABV, 82 IBUs
Availability: AK, AL, AZ, CA, CO, CT, DC, DE, FL, GA, IA, ID, IL, IN, KS, KY, LA, MA, MD, ME, MI, MN, MO, MT, NC, NE, NH, NJ,NM, NV, NY, OH, OR, PA, RI, SC, TN, TX, VA, VT and WA
About Stone Brewing Co.
Known for its bold, flavorful and largely hop-centric beers, Stone Brewing Co. has been brewing in North County San Diego since 1996. Founded by Greg Koch and Steve Wagner, Stone is the 10th largest craft brewer in the United States—a position it achieved without paid advertising, discounting or compromising standards. In addition to brewing, Stone owns two eclectic farm-to-table restaurants—Stone Brewing World Bistro & Gardens – Escondido and Stone Brewing World Bistro & Gardens – Liberty Station—and Stone Farms, an organic farm located near the brewery which grows produce for the restaurants. Stone also operates an off-site events company, Stone Catering, as well as Stone Distributing Co., which distributes more than 30 craft beer brands throughout Southern California. For more information on Stone Brewing Co., please visit stonebrewing.com or the company's social media sites: Twitter, Facebook, Instagram, Google+, YouTube and The Stone Blog.