Devil's Canyon Brewing – New Hours, New Packaged Beer and Barrel of Monkey's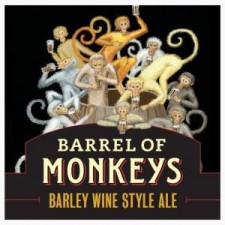 (San Carlos, CA) – Since moving to our new facility in San Carlos we have been working diligently on our new space, listening to customer requests, and looking forward to announcing delightful surprises like this one:
1) We now sell packaged product at the Brewery!
2) Announcing "Food Truck Friday" – every Friday – lunch and dinner!

To celebrate we are releasing the last 7 cases of our 2013 Barrel of Monkey's Barleywine Style Ale.
Here's how this works: Starting November 1st, Devils Canyon Brewing Company will be launching "Food Truck Friday: Growlers, Package and Pints"
You are now invited to join us at the brewery every Friday for outstanding cuisine from one of our rotating local food trucks.
Lunch is from 11:30-2pm
Dinner is from 4-7pm
While you are here you can get new growlers (available for sale at the brewery) or refill the ones you have and be ready for whatever the weekend has in store for you.
Is a growler a little too much? Well then you may be pleased to know that you can also purchase our award-winning craft beer in  package form as well:
22oz Bottles
* Deadicated Amber Ale, Full Boar Scotch Ale, California Sunshine Rye IPA
16-Oz Can 4-Packs
* Deadicated Amber Ale, Full Boar Scotch Ale, California Sunshine Rye IPA
750ml Bottles
* Belle – California Sparkling Ale
Occasional Special Releases
Bring a friend or coworker, grab something to eat, have a pint or two, and leave well-stocked for the weekend and week ahead.
To stay on top of what food truck is coming and any special releases we may be serving, be sure to follow us on the social media platform of you choice:Facebook, Google+, Twitter
Cheers!
~~~~~~
Note, If it's the last Friday of the month it's a Beer Friday (4-11pm) where we have live bands and 2 food trucks.
If it's not a Beer Friday then it's just good conversation, great local food, delicious pints and package /growlers to go!