Stone Brewing Co. Releases Stone Enjoy After 12.26.15 Brett IPA Today
Escondido, CA – Age an India pale ale? Really? Stone Brewing Co. is releasing a beer that defies all we thought we knew about consuming hoppy beers at their freshest, particularly the West Coast-style IPAs for which Stone is famous. While nearly every IPA on the planet should be drunk as fresh as possible, that is not the case with Stone Enjoy After 12.26.15 Brett IPA. Intended for aging until at least December 26, 2015, this unique IPA is inoculated with Brettanomyces (Brett), a wild yeast that will transform the beer over time in fascinatingly and deliciously unpredictable ways when stored under proper cellaring conditions. Beginning today, the Brett IPA will start arriving in 750-milliliter bottles at retail accounts in select states.

In 2012, Stone introduced a beer with an unprecedented, ultra-short shelf life: Stone Enjoy By IPA. That beer educated fans on the importance of drinking IPAs fresh by prominently displaying a revolutionarily short (35 days from bottling) "enjoy by" date of expiration on the front label. Always intent on challenging the status quo and elevating awareness of all things beer, the Stone Team had an idea that would counter the modern American craft-brewing concept of consuming IPAs fresh, and proposed developing an IPA intended for aging—one that would evolve and become a completely different beer.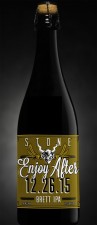 Stone Brewmaster Mitch Steele, the guy who wrote the book on IPAs, was up for the challenge and formulated a recipe. Steele decided to use hops and malt bills similar to Stone Enjoy By IPA's recipe, but there the similarities end. The Belgian yeast strain Ardennes was used in the base beer and then Brett was added post-primary fermentation before the bottles were corked and caged. Over time, the Brett is anticipated to contribute fruity funkiness, earthiness and subtle tart characteristics to the beer.
"Over the course of a year, we anticipate the beer will have greater carbonation and a creamier body, with a dry finish, more complexity, and farmhouse characters," explains Steele. "Each edition of Stone Enjoy After Brett IPA will be closely monitored and tasted once a month by our team in order to make sure the flavors are maturing appropriately. We are asking our fans to follow proper cellaring tips to ensure the most optimal results."
Bottles of Stone Enjoy After 12.26.15 Brett IPA should be kept at 50-70 degrees Fahrenheit, because anything below 50 degrees will render Brettanomyces dormant, and anything above 70 degrees may lead to the development of off flavors. Additionally, beer meant for aging requires storage in a dark space, as bright light or sunlight can alter the hops, resulting in a skunky flavor. Stone encourages fans to wait until the "enjoy after" date before consuming to help the beer reach its full evolutionary potential.
Depending on how Stone Enjoy After 12.26.15 Brett IPA and future batches of the unique beer are stored over time, individual results may vary…and that's both the beauty and the intent behind this beer.
Stone Enjoy After 12.26.15 Brett IPA Quick Facts
Name: Stone Enjoy After 12.26.15 Brett IPA
URL: stonebrewing.com/enjoyafter/122615
Stats: 7% ABV, 70 IBUs
Availability: Limited 750ml bottles, beginning December 16
Hops bill: Super Galena, Simcoe, Delta, Target, Amarillo, Calypso and Cascade
Distribution: AK, AZ, CA, CO, ID, NM, NV, OR, TX and WA
Find beer: find.stonebrewing.com
About Stone Brewing Co.
Founded by Greg Koch and Steve Wagner in 1996, San Diego-based Stone Brewing Co. is the 10th largest craft brewer in the United States. Stone has been listed on the Inc. 500 | 5000 Fastest Growing Private Companies list 10 times, and has been called the "All-time Top Brewery on Planet Earth" by BeerAdvocate magazine twice. The multi-faceted company will be the first American craft brewer to own and operate its own brewery in Europe, and is also building a production brewery and destination restaurant in Richmond, Virginia. Brewing at both locations is anticipated to begin late 2015. Known for its bold, flavorful and largely hop-centric beers, Stone has earned a reputation for brewing outstanding, unique beers while maintaining an unwavering commitment to sustainability, business ethics, philanthropy and the art of brewing.
stonebrewing.com – @StoneBrewingCo – Facebook – Instagram – Google+ – YouTube  and The Stone Blog.