New Holland Brewing Co. Announces Dragon's Milk Reserve with Raspberries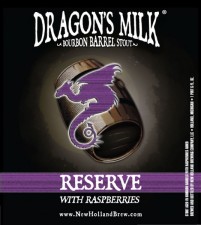 Holland, MI – New Holland Brewing Co. has taken its top-selling year-round bourbon barrel stout – Dragon's Milk – and loaded it with raspberries. The Michigan-based brewery is releasing its second 2014 "reserve" batch of Dragon's Milk to markets around the country with Dragon's Milk Reserve with Raspberries shipping from New Holland's production facility by mid-December and hitting stores soon after. This reserve blend is aged with raspberries in bourbon barrels for three months.
"This reserve batch of Dragon's Milk is ridiculously decadent," says Brett VanderKamp, president of New Holland. "The rich vanilla and chocolate notes of Dragon's Milk with the tart and sweet flavor of raspberries – it's just plain awesome."
This second 2014 Reserve release rounds up the year after the first batch – Dragon's Milk Reserve with Toasted Chilies released in the spring to a warm welcome.
"The raspberry Reserve is equally amazing," says VanderKamp. "It will definitely appeal to those who love that tangy tartness of raspberries and those who are a little scared of the chilies," he jokes.
New Holland will continue the Reserve releases in 2015 with four incarnations of the popular stout. All four are slated to release in November. They are:
Dragon's Milk Reserve with Toasted Chilies
Dragon's Milk Reserve with Raspberries
Dragon's Milk Reserve with Coffee & Chocolate
Dragon's Milk Reserve Triple Mashed Bourbon Barrel Stout
More information will be provided on these specialty brews as the release date approaches.
First released in 2001, Dragon's Milk was one of the early bourbon barrel-aged stouts in the US. The barrel-aging scene has since exploded. Once a single-batch annual release, Dragon's Milk has become New Holland's largest selling year-round beer, gaining accolades and recognition internationally, including last year's silver medal in the 2013 Brussels Beer Challenge.
In 2011, New Holland renovated its production facility to expand its Dragon's Milk cellar where more than 2,000 oak barrels can reside at one time.
"We're looking forward to releasing the raspberry Reserve," says VanderKamp. "And the 2015 releases will definitely be an exciting and busy time in the brewhouse. These small runs of Dragon's Milk are both to satisfy the creativity of our brewers, but also the palates of our fans. We think both will be happy with the results."
To find Dragon's Milk Reserve in your area, use our Beer & Spirits Finder or ask your local retailer.
About New Holland Brewing Co.
New Holland Brewing Company's deep roots in the craft industry go back to 1997. Their role as an integral member of the artisan approach is something they take seriously, yet engage lightheartedly. They believe the art of craft lives in fostering rich experiences for their customers, through creating authentic beer, spirits and food while providing great service. Recognized for their creativity and artistry, their mission to improve the lives of craft consumers everywhere is seen in their diverse, balanced collection of beer and spirits.
New Holland brews and distills at two locations in Holland, Michigan: their production facility on the north side and their Pub & Restaurant in downtown Holland. The restaurant welcomes guests seven days a week and production tours are on Saturday afternoons. They welcome visitors and locals alike, and appreciate the opportunity to share their artisan approach through warm hospitality and enriching education.
With approximately 200 employees, New Holland Brewing Co. sells its beer and spirits across a growing regional landscape, while anchored in the upper Midwest. In 2012, their production facility underwent substantial development including the tripling of their brewing capacity through outdoor fermentation, the addition of a centrifuge and the expansion of their Dragon's Milk cellar. In 2013, the company is expanding its distilling capabilities, renovating the downtown Holland Pub & Restaurant and focusing on the integration of Michigan agriculture; hops, wheat and barley, into several new and existing brands.
www.newhollandbrew.com – @NewHollandBrew – facebook