Stone Brewing Co. Releases Stone 18th Anniversary IPA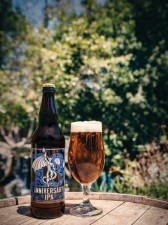 Escondido, CA – Eighteen years ago, beer geek entrepreneurs Greg Koch and Steve Wagner launched Stone Brewing Co., selling the first keg of Stone Pale Ale to San Diego County brewpub Pizza Port. Since unleashing that inaugural brew, Stone has earned a reputation for making bold, flavorful and hop-centric beers. What better way to celebrate yet another year of grand-scale accomplishments (and announcements) than by releasing an elegantly hoppy beer? Stone 18th Anniversary IPA is an imperial IPA dry-hopped exclusively and abundantly with El Dorado hops. Beginning today, this one-time specialty ale will start arriving in 22-ounce bottles and on draft at retailers, restaurants and bars in select markets nationwide.
Stone Brewmaster Mitch Steele fashioned a malt bill that would deepen the hue of the beer to a golden brown color and contribute subtle cocoa, coffee and roast flavors. Six different hops were used during the brewing process, but the standout variety is El Dorado, which provides the beer with herbal, lemongrass, tropical fruit and lemon candy flavors. The medley of malted barley and hops make this India pale ale a unique version of the style. To fully enjoy the glorious hop presence, Stone 18th Anniversary IPA should be enjoyed within the 90-day "enjoy by" date found on the bottle neck.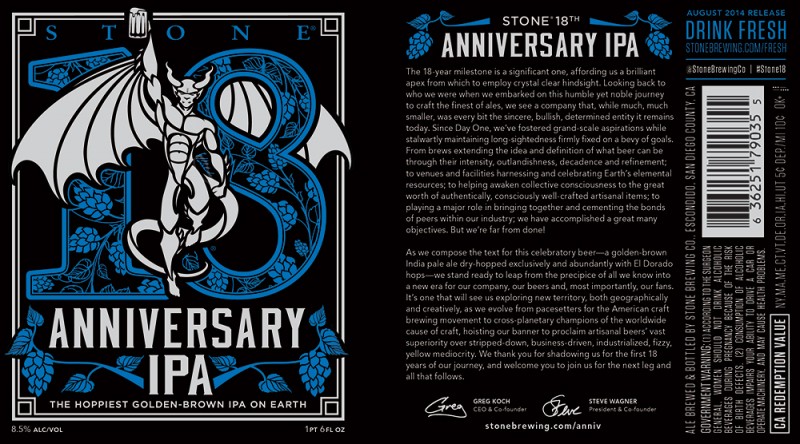 "For this year's Stone Anniversary Ale, we wanted to showcase one of our favorite new hop varietals, El Dorado," explains Steele. "We've been experimenting with this hop quite a bit within the last year, adding it to special one-off beers brewed at Stone Brewing World Bistro & Gardens – Liberty Station and our main brewery in Escondido. We decided to dry-hop the beer with two pounds per barrel of El Dorado. The result is a beer with a very distinctive lemon aroma and flavor that is balanced by roasted coffee and toffee flavors from the malted barley."
The past year has already been one for the history books. With a record amount of beer brewed, an eastern U.S. location soon to be determined, the recent announcement that Stone will be the first American craft brewer to own and operate a facility in Europe and the launch of a successful Indiegogo campaign (STONE GROUNDBREAKING COLLABORATIONS: The Campaign for Cross-Planetary Brewing), the company is ready to usher in a brilliant new era and explore new territory, both geographically and creatively.
"We invite craft beer enthusiasts and our brewing compatriots to raise a glass of Stone 18th Anniversary IPA and honor the collective progress made toward driving awareness to craft beer," said Koch, Stone CEO and Co-founder. "Because of them, the industry and Stone's growth throughout the past 18 years has been possible. Cheers!"
Of course, no anniversary is complete without a stupendous level of celebration. On August 15 and 16, Stone will host the Stone 18th Anniversary Celebration & Invitational Beer Festival just four miles from the brewery at California State University San Marcos in northern San Diego County. This festival, the company's largest annual charity event, brings Stone fans an epic array of craft beers, all in the name of celebration and charity. One hundred percent of the profits from the festival will be donated to the local charities Boys & Girls Club of San Marcos, Fight ALD, Palomar Family YMCA and Surfrider Foundation. For more information and to purchase tickets, visit stonebrewing.com/anniv.
Stone 18th Anniversary IPA Quick Facts
Name: Stone 18th Anniversary IPA
URL: stonebrewing.com/anniv/ale
Stats: 8.5% ABV, 75 IBUs
Availability: Limited 22-ounce bottles and draft, beginning August 11
Hops bill: El Dorado, Nugget, Centennial, Belma, Sterling, Hopsteiner 06300
Distribution: AK, AL, AZ, CA, CO, CT, DC, DE, FL, GA, IA, ID, IL, IN, KS, KY, LA, MA, MD, ME, MI, MN, MO, MT, NC, NE, NH, NJ, NM, NV, NY, OH, OR, PA, RI, SC, TN, TX, VA, VT, WA, and Puerto Rico
Stone 18th Anniversary IPA Video
Tasting notes, provided by Stone Brewmaster Mitch Steele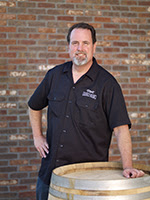 Appearance: Pours deep amber with a golden-brown hue and an off-white-colored head.
Aroma: Herbal, lemon and lemongrass hop notes, combined with very light levels of cocoa, coffee and roasted malts.
Taste: Fruity hops, lemon, orange zest and tropical fruit, with a complex malt base featuring coffee and toffee elements. The hop finish is very lemony.
Palate: Full bodied with a bitter, dry finish.
Overall: Several iterations of this beer were created before we settled on this recipe. Using a small amount of English Brown Coffee Malt in a double IPA seemed like an interesting idea to me, and was inspired in part by the success we had brewing Aleman/Two Brothers/Stone DayMan Coffee IPA and The Alchemist/Ninkasi/Stone More Brown Than Black IPA. The malt character is rich and complex, with hints of cocoa and coffee that don't interfere with the hop intensity. We used one of our favorite new hop varieties, El Dorado, 100 percent in the dry-hop stage, which provides a distinctive lemony character in the aroma and taste.
Suggested pairings, provided by Stone Craft Beer Ambassador "Dr." Bill Sysak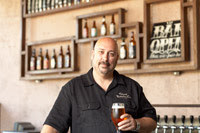 Appetizers: Sweet potato fries with roasted garlic aioli, blistered shishito peppers, grilled prosciutto-wrapped shrimp, fried pork wontons
Soups and Salads: Kale & white bean soup, miso ramen, tortilla soup, chicken salad, green mango salad
Entrees: Roasted chicken, pad Thai, stuffed acorn squash, pork chops, carnitas tacos
Cheeses: Fiscalini Bandage Wrapped Cheddar, Idiazabal, Cypress Grove Chevre Lamb Chopper, Bellwether Farms San Andreas
Desserts: Peach cobbler, apricot cheesecake, carrot cake, baked nectarines with pistachios
Cigars: Drew Estate Herrera Esteli Piramide, Tatuaje Cabaiguan, Rocky Patel Connecticut, L'Atelier Lat56
About Stone Brewing Co.
Founded by Greg Koch and Steve Wagner in 1996, San Diego-based Stone Brewing Co.is the 10th largest craft brewer in the United States. Stone has been listed on the Inc. 500 | 5000 Fastest Growing Private Companies list nine times, and has been called the "All-time Top Brewery on Planet Earth" by BeerAdvocate magazine twice. The multi-faceted company will be the first American craft brewer to independently own and operate facilities in Berlin, Germany and also has plans to open operations east of the Mississippi. Known for its bold, flavorful and largely hop-centric beers, Stone has earned a reputation for brewing outstanding, unique beers while maintaining an unwavering commitment to sustainability, business ethics, philanthropy and the art of brewing.
stonebrewing.com – @StoneBrewingCo – Facebook – Instagram – Google+ – YouTube  and The Stone Blog.