Stone Brewing Co. News Roundup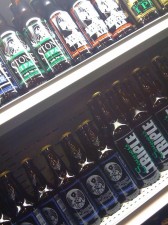 Recently, 12 oz bottles of Stone Imperial Russian Stout 2008 have been spotted various places in Southern California, including The Stone Company Store in Escondido, CA. I was shocked to find out the brew that is usually only available in limited amounts during the spring, was bottled in 12 oz singles. It was quietly done, and we first got wind of this on the Internet.
TheFullPint.com contacted Greg Koch, Stone Brewing Co.'s CEO, for the details on this unexpected treat.  As it turns out, Stone overshot on the production of this years Stone Imperial Russian Stout.  With a bit of a surplus of this magical beer, the decision was made to bottle the remains in 12 oz packaging, destined for export.  Due to the hectic, fast paced nature of Stone Brewing Co., a quick decision was then made to keep some 12 oz. bottles locally, for us all to enjoy.
With only a few hundred cases produced, it was decided to keep this on the downlow from a marketing perspective.  It is of the opinion of thefullpint.com that this is awesome, and hopefully there will be a bit of a trend, in offering the stronger ales in smaller packaging. With the news of the surplus, I have to wonder what other fun stuff was done besides 12 oz bottling? Wine barrel, bourbon barrel, brandy barrel? Hmmmm.
Speaking of fun stuff. For those of you going to the Pizza Port Strong Ale Festival, Stone will be sending over Double Bastard Ale, Vintage 2008 Dry Hopped with Amarillo and Columbus Hops, as well as Stone 11th Anniversary Ale. You can wipe the drool off of your keyboard now.
In other Stone Brewing Co. news, Stone will be joining Zane with his Zane Year's Eve event. There will be a great array of craft beers to join, and you can get more info by visiting www.zanecrawl.com. Also, the date and location for Stone 13th Anniversary Celebration & Invitational Beer Festival is August 22, 2009 @ Cal State University San Marcos. Make sure to mark your calendars for that.