Stone Brewing 14th Anniversary Emperial IPA Finishes Out 20th Anniversary Encore Series
(ESCONDIDO, CA) – In 2009, Stone President & co-founder Steve Wagner made a research trip to England to learn more about the confusing and often contradictory history of IPAs. That epic trip resulted in an epic ale that years later makes its encore reign – the last in the series of Stone's 20th Anniversary celebratory re-brews. 20th Anniversary Encore Series: Stone 14th Anniversary Emperial IPA will begin arriving in bars and restaurants where Stone beers are sold this week.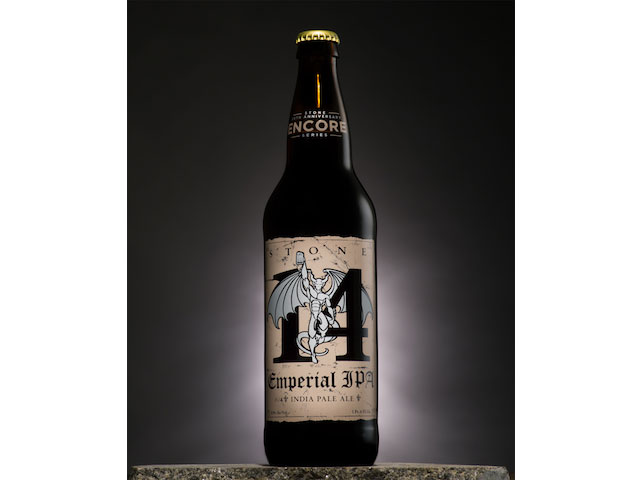 British brewers in the 1800s made their IPAs big and as light in color and as dry as possible. That became Stone's inspiration for this royally Emperial IPA. It's brewed using all British malt, hops and yeast. Even the water was adjusted with mineral salts to more accurately reflect the renowned brewing water chemistry of Burton-on-Trent. The famed town of East Staffordshire, England, is known as the birthplace of the IPA. The water from the River Trent is fabled for its healing powers and, coincidentally, is known as the best brewing water in the world. It boasts the highest sulfate, calcium and magnesium contents of any other major brewing center in the world, and low levels of sodium and bicarbonate.
"That trip to England was inspiring to say the least," said Stone Brewing President & co-founder, Steve Wagner. "At the time, we were researching IPAs and we poured over 150-year-old brewer's logs handwritten in ink. We were inspired to come home and try our hand at the most authentic British IPA we could possibly brew in the US. To re-release this beer is a trip back in time to one of the most inspiring times in my brewing history."
20th Anniversary Encore Series: Stone 14th Anniversary Emperial IPA is a dry-bodied ale that's powerfully spicy with an earthy aroma. On the palate, peppery hops assert themselves early and often, with malt sweetness and a light biscuit flavor making a brief appearance before a long, complex and decisively bitter finish. There is one thing decidedly San Diego about this beer, and that's its aggressive dose of hops. 20th Anniversary Encore Series: Stone 14th Anniversary Emperial IPA is brewed to enjoy fresh but true to its origin, ages especially well on a six-month long ocean voyage.
QUICK FACTS
Name: 20th Anniversary Encore Series: Stone 14th Anniversary Emperial IPA
Web: stonebrewing.com/encore14th
Stats: 8.9% ABV, 100 IBUs
Availability: 22-ounce bottles and draft, beginning October 17
Hop Varieties: UK Target, Boadicea & East Kent Golding
National Distribution: AK, AL, AR, AZ, CA, CO, CT, DC, DE, FL, GA, HI, IA, ID, IL, IN, KS, KY, LA, MA, MD, ME, MI, MN, MO, MT, NC, NE, NH, NJ, NM, NV, NY, OH, OR, PA, RI, SC, TN, TX, VA, VT, WA, WI and Puerto Rico
International Distribution: Costa Rica; Germany; Hong Kong; Japan; Singapore; Taiwan and Thailand
Find Beer: find.stonebrewing.com
About Stone Brewing
Founded by Greg Koch and Steve Wagner in 1996, San Diego-based Stone Brewing is the 10th largest craft brewer in the United States. Stone has been listed on the Inc. 500 | 5000 Fastest Growing Private Companies list 12 times, and has been called the "All-time Top Brewery on Planet Earth" by BeerAdvocate magazine twice. The multifaceted company is the first American craft brewer to independently build, own and operate their own brewery in Europe (Berlin, Germany), and also opened a production brewery in Richmond, Virginia in 2016. Known for its bold, flavorful and largely hop-centric beers, Stone has earned a reputation for brewing outstanding, unique beers while maintaining an unwavering commitment to sustainability, business ethics, philanthropy and the art of brewing. For more information on Stone Brewing, please visit stonebrewing.com or the company's social media sites: Facebook, Instagram, Pinterest, Twitter and The Stone Blog.