Stevens Point Wins Silver and Bronze at 2012 World Beer Cup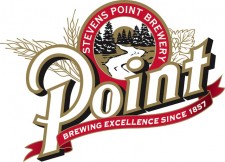 STEVENS POINT, Wis.  (May 7, 2012) – The Stevens Point Brewery recently claimed silver and bronze medals in the 2012 World Beer Cup®, a global beer competition presented by the Brewers Association (BA) that evaluates beers from around the world and recognizes the most outstanding brewers and their beers.
Gold, silver and bronze were awarded in the competition's impressive field of nearly 4,000 entries from 828 breweries in 56 countries. World Beer Cup winners, selected by an international panel of 218 beer judges from 29 countries, were presented Saturday, May 5, 2012 during the World Beer Cup Gala Awards Dinner at the Town and Country Resort in San Diego, California.
The Stevens Point Brewery was awarded a silver medal in the German-Style Schwarzbier category for its year-round Point 2012 Black Ale, a dark and robust brew inspired by the ancient Mayan "Long Count" round calendar which ends abruptly in 2012.
The brewery also won a bronze medal in the German-Style Kölsh category for its spring seasonal, Point Three Kings Ale, a delicious, well-balanced, crisp yet smooth ale made with authentic Kölsh ale yeast.
"The World Beer Cup is the largest commercial beer-judging competition in the world," said Stevens Point Brewery Operating Partner Joe Martino. "It is also known as the Olympics of Beer," he said.  "For our hand-crafted beers to be selected the world's best is a great honor for our brewery," Martino added.
The 2012 competition drew the largest, most international field of entrants in the history of the World Beer Cup.  Visit WorldBeerCup.org for additional World Beer Cup information.
The Stevens Point Brewery
Stevens Point Brewery, founded in 1857, uses only the highest-grade barley malts, specialty malts, grains and the choicest hops to brew their handcrafted beers, including flagship Point Special Lager, which won the gold medal in the American Premium Lager category at the 2003 Great American Beer Festival.
In addition to spring seasonal Point Three Kings Ale,  seasonal specialty brands include Point Nude Beach Summer Wheat, an award-winning unfiltered wheat ale for the summer, Point Oktoberfest, a Bavarian-style Märzen beer for the fall; and Point St. Benedict's Winter Ale, a dark, abbey-style ale for the winter months.
Point's year-round specialty beers include the award winning Point 2012 Black Ale, a robust dark ale; Point Belgian White, a Belgian-style wheat ale; Point Burly Brown American Brown Ale; Point Cascade Pale Ale, a hoppy American-style pale ale; Point Amber Classic, an American-style amber lager, and Point Drop Dead Blonde, a 110 calorie ale.
The brewery's craft beers also include the Whole Hog Limited Edition Brewmaster's Series of "big beers," including year-round Whole Hog Six-Hop India Pale Ale and seasonal offerings, Whole Hog Raspberry Saison, Whole Hog Russian Imperial Stout, Whole Hog Barley Wine Ale and Whole Hog Pumpkin Ale.
Gourmet soft drinks from the Stevens Point Brewery include Point Premium Root Beer, Point Premium Diet Root Beer, Point Premium Orange Cream, Point Premium Vanilla Cream and Point Premium Black Cherry Cream Soda. Point Premium Root Beer, made with pure cane sugar, natural vanilla and Wisconsin honey, was awarded a gold medal by the Beverage Testing Institute.
For more information about the Stevens Point Brewery, visit www.pointbeer.com or call 1-800-369-4911. Tours of the brewery are available, with schedules listed on the web site.
The World Beer Cup
The World Beer Cup has been held every other year since 1996 and is presented by the Brewers Association. The Brewers Association is the not-for-profit trade association dedicated to small and independent American brewers, their craft beers and the community of brewing enthusiasts. The Brewers Association (BA) represents more than 70 percent of the brewing industry, and its members make more than 99 percent of the beer brewed in the U.S. The BA organizes events including the World Beer Cup®, Great American Beer Festival®, Craft Brewers Conference & BrewExpo America®, SAVOR: An American Craft Beer & Food Experience and American Craft Beer Week®. The BA publishes The New Brewer magazine and its Brewers Publications division is the largest publisher of contemporary and relevant brewing literature for today's craft brewers and homebrewers.