Cigar City Collaborates with Blue Jacket and Funky Buddha on Concession Obsession
News on an upcoming collaboration beer from Cigar City Brewing called Concession Obsession. Picture and news from Cigar City's Facebook.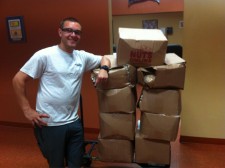 Ethan proudly poses with his huge load of nuts. These are going into a beer we collaborated with Bluejacket and Funky Buddha. We're gonna add some vanilla and chocolate and probably other stuff, too. Working name is "Concession Obsession" due to this beer's similarity to a smörgåsbörd of movie theatre candies. It'll be somewhere in the neighborhood of 11% ABV and will be totally DRAFT ONLY! Details on where dem kegs will be goin' will be announced soon.