Spiteful Brewing Releases Malevolence: Chocolate Caliente Russian Imperial Stout
(Chicago, IL) –This week Spiteful Brewing releases Malevolence: Chocolate Caliente Russian Imperial Stout, a beer inspired by Mexican hot chocolate. "It's a big, viscous beer. The sweetness of the base beer makes a nice canvas for the additional spices and ingredients," said Spiteful co-founder Jason Klein. Spiteful's original Malevolence Russian Imperial Stout serves as the base beer for the spicy iteration.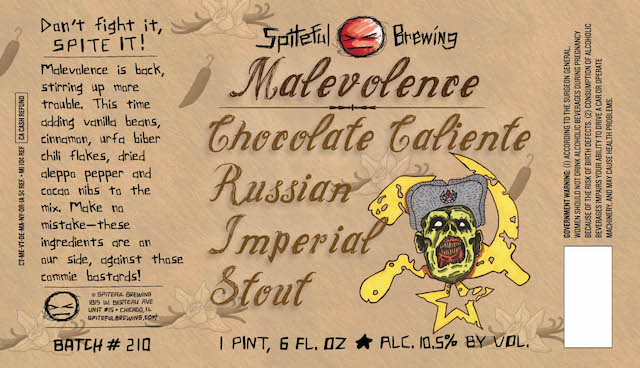 Brewed with vanilla beans, cacao nibs, cinnamon, Urfa biber chili flakes, and dried Aleppo pepper, Malevolence: Chocolate Caliente balances a moderate spiciness with rich, sweet flavors of vanilla and chocolate. "Between the spice from the cinnamon, the pepper, and the booze heat, the beer warms you up," Fredrickson said. "Most Chicagoans hate themselves for living here in the winter. This beer will lessen that self-loathing."
Malevolence: Chocolate Caliente is 10.5% ABV and packaged in 22-oz bottles, seeing distribution across the Chicagoland area this week. For information about where to find Spiteful beer, visit www.spitefulbrewing.com/pages/find-spiteful-beer.
###
ABOUT SPITEFUL BREWING
Established in 2011, Spiteful Brewing's production-only facility is dedicated to brewing small-batch beers with spite. Located in Chicago's North Center neighborhood, Spiteful brews five and seven barrel batches within a 950-square-foot space, packaging in 22-oz bottles, 16-oz cans, 12-oz cans, and limited quantities of 1/6 bbl kegs. Spiteful packages by hand and self-distributes beer across the Chicagoland area.