Night Shift Barrel Society 2015 Membership Details
(Everett, MA) – Are you a member of the Night Shift Barrel Society? Here's what you can expect in addition to the 7 beers set to release.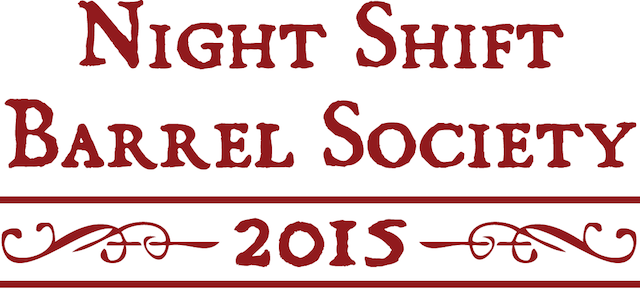 First and foremost, welcome to the 2015 Night Shift Barrel Society! We're truly excited to begin 2015 with a year of delicious barrel-aged beer ahead of us. With over 1100 members this year, we've been able to make significant improvements to our brewery – thank you all for your support in helping make this happen.
Here's a quick summary regarding your Barrel Society membership:
Seven barrel-aged beers over the course of 2015, exclusive to members (depending on your membership level, you'll have access to one bottle of each, two bottles of each, or four bottles of each)
Priority to purchase extra bottles of each beer, if the barrels prove more fruitful than expected
Two exclusive membership glasses
One exclusive membership t-shirt (two if pre-purchased)
OPTIONAL exclusive membership hoodie (if pre-purchased)
First rights to renew your membership for 2016
An end-of-the-year party for all 2015 members
Exclusive access to the 2015 Barrel Society Taproom draft line (available now!)
Exclusive access to leftover 2014 Barrel Society bottles (available in early February)
We know many of you have asked about the timing of beer releases, t-shirts, and glassware, so here are the details:
First Beer Release – We should have the first beer bottled and ready for pickup from our Taproom sometime over the next few months. Releases will generally happen later in the year, as the beers are now resting on oak, gaining complexity, and accumulating delicious flavors. It will be worth the wait! We'll email you ahead of each release about pickup dates and extra bottles.
T-Shirts, Hoodies, Glassware – We plan to have these ready for pickup in early February – we'll email more details soon!
We'd like thank you all once again for your support of our efforts, and really look forward to seeing you and sharing our beers with you over the course of 2015. If you have any questions, please refer to our FAQ, and for any direct questions, please email [email protected]
Cheers,
-The Night Shift Brewers