Spiteful Brewing Releases God Damn Peanut Butter and Jelly Pigeon Porter
(Chicago, IL)— Inspired by the classic sandwich of the same name, Spiteful Brewing releases God Damn Peanut Butter and Jelly Pigeon Porter to the Chicagoland area this week.  Slightly tart, sweet, and nutty from additions of fresh raspberries and dehydrated peanut butter, the beer is intended to remind drinkers of the quintessential feel-good sandwich, the PB&J. God Damn Peanut Butter and Jelly Pigeon Porter is 8.2% ABV and packaged in 22-oz bottles.
In addition to the PB&J-inspired porter, Spiteful announces their plans to brew and package their original God Damn Pigeon Porter on a monthly basis. "By adding God Damn Pigeon Porter to our schedule of regular releases, people will be able to try it side by side with the variants," notes Spiteful co-founder Jason Klein. It joins Spiteful IPA and Alley Time Pale Ale, both 12-oz offerings, as a flagship canned brand. God Damn Pigeon Porter is 8.2% ABV and is being released as a 16-oz four-pack.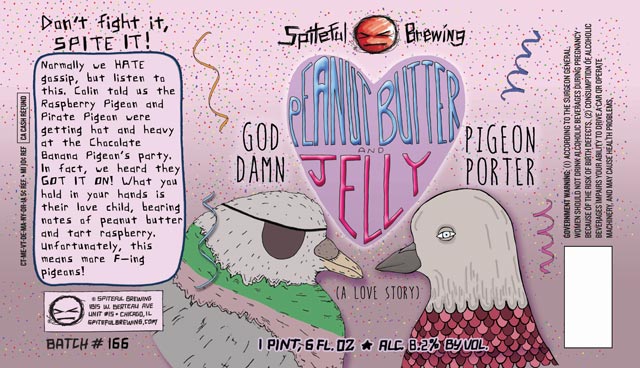 God Damn Peanut Butter and Jelly Pigeon Porter adds to the ranks of variations on the beer God Damn Pigeon Porter.  Ingredients added to previously released porters in the series include cascara, raspberry, and peanut butter; a recent "chocolate banana" variant was brewed with cocoa powder and fermented with hefeweizen yeast,  "The Pigeon Porter series has been a hit for us," Spiteful Representative Calvin Fredrickson says. "We love the base beer, God Damn Pigeon Porter. Brewing different versions of it, pulling back on the hops and adding ingredients — it's been an outlet for us to have fun with an already great beer."
Deliveries for God Damn Pigeon Porter and its PB&J-inspired variant will be completed this week. Currently, Spiteful's canned offerings are only available in Chicago proper, while bottled releases see distribution to both city and suburban locations.  The brewery notes that their PB&J porter is not to be understood as a form of liquid lunch. "This is not a meal replacement. It's a beer that was inspired by a sandwich," Fredrickson says. "Baseball bat sold separately.
###
ABOUT SPITEFUL BREWING
Established in 2011, Spiteful Brewing's production-only facility is dedicated to brewing small-batch beers with spite. Located in Chicago's North Center neighborhood, Spiteful brews five and seven barrel batches within a 950-square-foot space, packaging in 22-oz bottles, 16-oz cans, 12-oz cans, and limited quantities of 1/6 bbl kegs. Spiteful packages by hand and self-distributes beer across the Chicagoland area.