Snake River Wins Big at GABF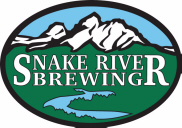 Snake River WINS BIG at the GABF and we're gettin' ready to PARTY with you!!
Last weekend, Snake River Brewing competed in the largest beer competition in the USA, The Great American Beer Festival (GABF) and came away with four awards for brewing excellence.
Winning beers from SRB were:
GOLD MEDAL: Le Serpent Cerise – Wood/Barrel Aged Sour Beer Category
GOLD MEDAL: Berlinerweisse – German Style Sour Ale Category
BRONZE MEDAL: Rolling Thunder Dortmunder – Dortmunder/German Style Oktoberfest Category
BRONZE MEDAL: Le Serpent – Belgian Style Lambic/Sour Ale Category.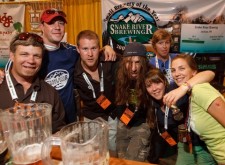 Snake River now boasts 29 medals from the GABF since opening in 1994 and continues to be the most award-winning small brewery in the USA. The grand finale of summer festivals, the GABF completed another banner season for SRB. The 3-day event and beer competition hosted over 3,500 beers vying for medals in 79 beer-style categories. Director of Brewery Operations, Chris Erickson states "Bringing home even one medal from the GABF is an honor, while being recognized with four medals really shows that the brewers here at Snake River make some of the best beer in the country."
Brew Master, Cory Buenning adds "Three out of the four beers came from our small-batch program, where we as brewers experiment with novel and unique styles. A couple of the beers that won had been aging in French wine barrels for over 2 years!"
Congratulations to the AWESOME Snake River Brew-Crew for continuing to make some of the world's BEST beer!
Join SRB for OKTOBERFEST!! Thursday, October 7th @ The Pub.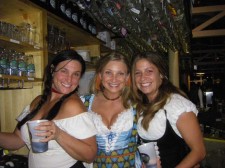 Snake River Brewing will once again be honoring the annual tradition of Oktoberfest. Join us for the festivities starting at noon on Thursday, October 7th, as we turn our Brew Pub into an authentic German beer-hall serving traditional Bavarian foods and brews!
Salzberger Echo, the live "Oom-Pah-Pah" band will be on hand in the evening with their Tyrolean music, elk-horns and bells starting just after Happy Hour. So bring your leiderhozen and dirndles and be prepared to bust out the "Chicken Dance"!
On tap you'll enjoy our Alpine Fest Oktoberfest which will be released on that day, along with our Rolling Thunder Dortmunder, Hoback Hefeweizen and five other incredible brews. SRB Liter steins will be sold throughout the day, but get there early as they tend to sell out.
Executive Chef, Ryan Brogan will be serving up a traditional fare of German foods, including Bier-Rocks, brats, .sauerkraut, pork-shank, a sausage plate and spetzl. YUMMMM!!!
This is one of our biggest days of the year and we'll have additional beer and food stations to satisfy your Oktoberfest needs! And hey…don't forget that our SRB Beer-Maids will be adorned in their dirndls serving up liters of lagers and our traditional German bill of fare!