Smuttynose: Short Batch Beer for Lindsey Altshul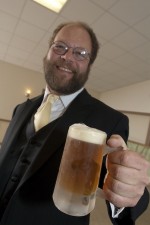 Portsmouth, NH  When Lindsey Altshul died unexpectedly last May, his passing touched the Seacoast community, including the brewers at Smuttynose Brewing Company, in a deep, wide and profound way.  Like any artisans, their response was to make something in their medium, to brew a fitting tribute.  The resulting beer, called "Lindz," in reference to Altshul's nickname, will be released on draft this Thursday around the Seacoast, while bottles will be for sale exclusively at Smuttynose Brewing Company, on October 25, beginning at 5pm.
Beer lovers and friends of Lindsey will find that the special beer, a German-style Kolsch, reflects a number of his interests.  "Kolsch are golden-colored, noticeably hopped, ales that are cold-conditioned like lagers," explains David Yarrington, Smuttynose's Director of Brewing Operations, "they were one of his favorite beer styles and it's one that we haven't really done before."  Yarrington explained that kolsch are light in body and low in alcohol (this one is just 5.1%) but flavorful, crisp and very versatile in food pairings.
Diners at Pepperland Café are also very familiar with Altshul and co-owner Kevin Hahn 's support of local and sustainable agriculture.  This commitment to a better way of sourcing food informed Yarrington's choice to exclusively use organic Valley Malt, which is 100% sourced from New England farms and malted in a small malting facility in Hadley, MA.  Economies of scale prevent Smuttynose from using Valley Malt in regular production, but brewing Lindz provided a great opportunity to bring some to the brewhouse for the first time.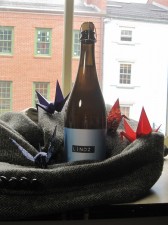 The bottle label offers one final nod to our friend, with two simple origami cranes flanking the name of the beer.  "Lindsey folded tons of cranes," said Bill Harris, Smuttynose's local Field Sales Manager and close friend of Altshul, "he taught a lot of people how to fold them and would often make them all night at Christmas Eve while buying his friends Christmas pints around town."  In the aftermath of his passing, Lindsey's friends and acquaintances gathered to fold over a thousand cranes for his memorial service.  Japanese tradition holds that folding one thousand cranes will bring good fortune and luck. Crane offerings are often found at weddings, births and funerals.
We hope you'll be able to take some time on Thursday to remember those friends and family that you miss.  If you have an account near you,   Tapping details are being set by each account.
New Hampshire
Portsmouth:
The Press Room
Moxie
Portsmouth Brewery
Blue Mermaid
The River House
Street
Surf
Rudie's
The Black Trumpet
The District
Dover:
The Barley Pub
Newmarket:
Popper's at the Mill
Maine
Kittery:
The Black Birch
When Pigs Fly
South Berwick:
Wells:
Portland:
Novare Res Bier Café
Nosh
Pi Men Miyake
Bangor:
Lindz Stat Box
5.27% abv  10 IBU – Starting Extract 11.1° Plato – Finishing Extract 1.3° Plato – Malts: Valley Malt Organic Pilsner Malt, Valley Malt Organic Munich Malt, Valley Malt Organic Wheat Malt, all grown in New England and malted       in Hadley, MA. – Hops: Motueka, a newer variety from New Zealand. – Yeast: WLP-029 German Ale/Kolsch. – Batch Size: 30 barrels (60 cases of bottles, 20 half barrel kegs, 50 sixth barrel kegs)
About Smuttynose: Smuttynose Brewing Company is New Hampshire's leading craft brewery and we're proud to be independently owned and operated since opening in 1994.  We currently brew over 20 different styles of ales and lagers for distribution in 19 different states, including our best-selling Finestkind IPA and international award-winners Robust Porter, Wheat Wine Ale and Big A IPA.   In 2011, our 38 employees worked together to brew, package and ship nearly 40,000 barrels, or 10 million pints, of all-natural, unfiltered, honest-to-goodness beer from our Portsmouth brewery. In August of 2012, ground was broken on Smuttynose's new, home which will include a visitor's center, pub/restaurant and environmentally friendly production facility.