Ska Brewing Mexican Logger Hits Stores Beginning April 2nd
(Durango, Colorado) — Ska Brewing is announcing the 2014 release of Mexican Logger, the brewery's seasonal Mexican-style lager.
Brewed in honor of a fictional "Mexican Logger Superhero" that was part of the irreverent brewery's original business plan/comic book, the beer hits stores on Wednesday, April 2 in cans, bottles and kegs in Colorado and Ska's other markets.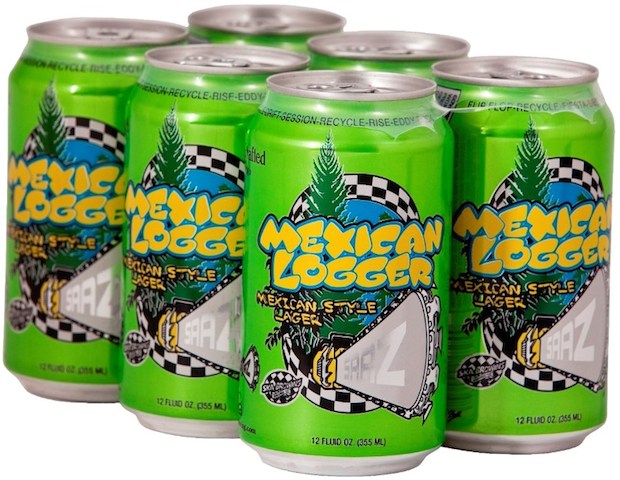 Originally brewed in 1999 and debuting in cans in 2011, Mexican Logger is a highly sessionable craft-style lager of 5% ABV. It's made with premium malts and hops and fermented with a German lager yeast.
The beer features a light-to-medium body and flavors of fresh grain and sweet malt, all balanced by a pleasant bite of Saaz hops and clean, crisp finish. Perfect for summer quaffing, the beer has become a warm-weather hit with Ska fans. It has also played a big role in Ska's 12% growth in 2013.
"Mexican Logger's sales were up 32% last year," says Ska founder Dave Thibodeau. "It accounts for nearly 12% of our overall annual sales, which is pretty unique for a seasonal beer."  To help meet demand for the beer this year, Thibodeau says Ska has boosted its 2014 Mexican Logger production by 25%.
That's good news to Mike Rich, owner of Wagon Wheel Liquors in Ska's hometown of Durango. "Mexican Logger is our number one seller every summer," Rich says. "Our customers have been coming in and asking for it for weeks now. At the end of each summer," he notes, "people come in and buy several cases of the beer to stockpile it for the rest of the year."
Craft beer judges and demanding beer lovers have also fallen for Mexican Logger. The beer's honors include a 2012 Best of Show award in the Craft Lager Festival, a 2012 Gold Medal in the Craft Lager Festival's Pilsner category, and a 2011 Most Sessionable award in the CraftCans.com Reader's Poll.
Easy drinking appeal was what Ska's team was after when it created the beer.
"It's really hot down here in the summer," Thibodeau says, "so we used to be closet Pacifico drinkers when warm weather hit. And the whole reason we opened our brewery was because we couldn't afford to buy all the beer we drank. With Mexican Logger we took a beer style we loved, one-upped it a bit, and threw a craft spin on it to make it our own."
"Back in the day," he says proudly, "we used to show up at summer festivals with Mexican Logger and giant bowl of limes. We were shunned by consumers and other brewers. But I still like a lime in it."
The beer's backstory stretches back to Ska's brewery planning days. Thibodeau and his co-founders (Bill Graham and Matt Vincent) wrote a business plan that included a comic book that featured "Carlos Javier," a south-of-the-border woodsman.
In the comic book, Javier lends his formidable powers to Ska Brewing's battle against the evil forces of Rotgutzen International Beverage Corporation.  He also rages against Mexico's official banning of the siesta and the intrusion of corporate brewers in Mexico.
"I know, it's a ridiculous story I wrote back in the 90's," Thibodeau says, "and I guess we're not very politically correct here. But everything we do is an inside joke of some kind to make our work days more fun."
The Mexican Logger story appears on the bottom of sixpack carriers for the bottled version of the beer.
To celebrate the release of the beer, Ska is holding a release party at Ska Brewing World Headquarters in Durango, Colorado on Wednesday, April 2 from 5-7 PM. The event will include giveaways, Mexican cuisine from The Container Restaurant, and live music from local heroes The Lawn Chair Kings.
The beer will available in Ska's nine states (CO, AZ, NM, TX, MO, KS, NE, IL, NC) through September. 
About Ska Brewing
Based in Durango, Colorado, Ska Brewing was founded in 1995 and now produces over a dozen medal-winning beers including Pinstripe Red Ale, True Blonde Ale and Steel Toe Stout. Four Ska beers are now widely available in cans: ESB Special Ale, True Blonde, Modus Hoperandi IPA and the summer seasonal Mexican Logger. For information, music and a good time, visit www.skabrewing.com. Connect with Ska and get the latest news at facebook.com/skabrew and twitter.com/skabrewing.