Sixpoint Diesel Returns for Second Year Straight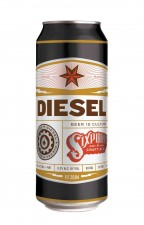 Inspiration and innovation can take many forms, but they often strike together. Convinced that the prevailing technology of the late 1890s performed at only a portion of their capacity, Rudolph Diesel created his now-famous diesel engine. Over a century later, the Mad Scientists at Sixpoint believed there could be more to a stout than the delights of roasted malt and crafted the aptly named Diesel as their winter release. This is no nutmeg spiced, cinnamon stick stirred, kindly old winter ale. This is the Diesel, a coal-dark brew that brazenly assaults the palate with huge piney hops and roasted barley flavors. The hops are defiant, battling through waves of nutty malt goodness to provide a powerful piney bouquet and lasting hop freshness.
And so, as gasoline returns to New York so too does Diesel, the enigmatic behemoth that is Sixpoint's winter release. With a full mouthfeel from its immense malt base, and packed with enough hops for the biggest lupulin lover (69 IBUs), the Diesel toes the line between Cascadian dark ale and hoppy American stout. An appealing brew for the IPA devoted, the Diesel has converted more than a few pale ale fans to the dark side.
"Diesel shows that an assertive hops presence and a robust, rich character do not have to be mutually exclusive. Winter is coming … time to stock up the Diesel reserves." said Jan Matysiak, Brewmaster.
Served on draught since 2005, this is only the second year Diesel has been canned, and it's more stylish than ever. Despite winning Best Graphics Design in the 2012 Canny awards, Diesel is even prettier as a poured pint. It tops up with thick and smooth cappuccino–colored froth, and laces the glass fiercely to the last drop. Robust enough to stand up to Christmas Day prime rib, smooth and sweet enough to accompany and refresh dessert, and yet drinkable enough for a signature Sixpoint four-pack enjoyed by the fire. The perfect nightcap or an eye-opening breakfast stout— if you are ready, the Diesel is waiting. Available now.
Do you love the Diesel? From December 1st through January 31st you can unlock a special badge on Untappd (Available on iOS and Android) only available for those who dare to drink the Diesel.