Sixpoint Brewery To Release Sleek Canned Six-Packs Of Flagship Beers
Brooklyn, NY – Brooklyn-based Sixpoint Brewery today announced the launch of 12-ounce "sleek" can six-packs of its flagship beers – Sweet Action Ale, Crisp Pilz and Bengali IPA. The announcement comes on third anniversary of the company's hugely successful launch of 16-ounce four-packs after six years of only being available on draft. The six-pack format for these offerings will replace the four-pack 16-ounce versions of these beers. The 16-ounce "tallboys" of Sweet Action and Crisp will continue to be available in "loose" 24-can, shrink-wrapped cases.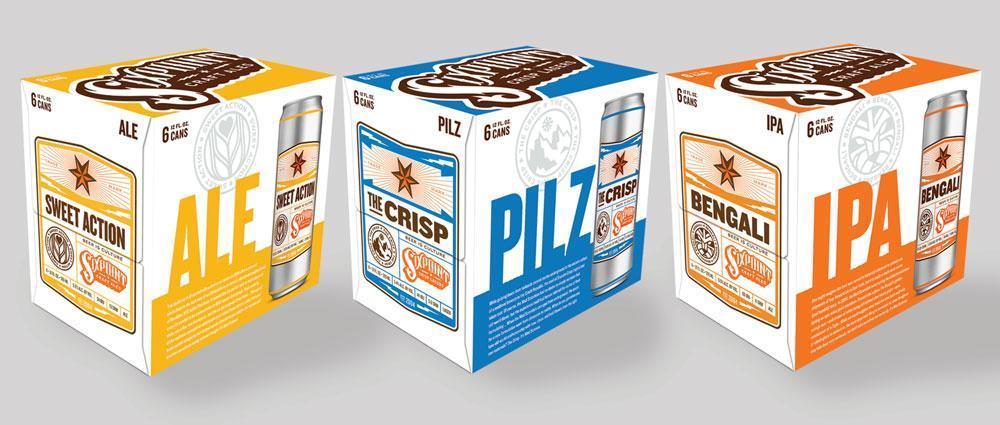 The new packaging is set to begin shipping mid-May to wholesalers throughout Sixpoint's 20-state distribution network (see attached). The move to to 12-ounce six-packs means customers will get eight ounces more beer in each box of beer versus the 16-ounce four-pack. Additionally, the price-per-ounce in the six-packs will be slightly less than the price-per-ounce in the four-pack. Also, customers who want to purchase a case of four sleek six-packs can now do that at a much lower price point than was possible with a case of six four-packs of tall boys.
"I could not be prouder of the Sixpoint team with this overhaul of our packaging format," said Shane C. Welch, president of Sixpoint Brewery. "Better beer at a better price is the manifestation of a project that was over one year in the making. Ultimately the biggest beneficiary here is our customers and everyone at Sixpoint is excited to see their reaction once they see, and more importantly taste these products."
Another key criteria in Sixpoint's decision to switch to the sleek can was the smaller footprint of the sleek can versus the more traditional 12-ounce "stubby" can. The sleek format maximizes space in both your refrigerator and your summertime cooler.
"We introduced the craft beer world to the 12-ounce sleek can in January 2012 with the Resin release," commented Welch. "As we've expanded our line-up of this format, we developed a deeper appreciation of the efficiency of that design. This signature format is a winner in many respects."
SIXPOINT BREWERY WHOLESALER LIST
Massachusetts
Craft Boston
L. Knife
Seaboard
New Hampshire
Craft New Hampshire
Maine
Craft Maine
Vermont
Craft Vermont
Rhode Island
Craft Rhode Island
Connecticut
Craft Connecticut
New York
Upstate NY – TJ Sheehan, Tri Valley
Downstate NY – Union Beer
New Jersey
Hunterdon Distributing
Baltimore/Maryland/Washington, DC
Legends
Virginia
Specialty
Delaware
Standard
Pennsylvania
Philadelphia – Origlio
Ace
Nittany
Shangy
Northeast Eagle
Kentucky
Beerhouse
Ohio
Cavalier Ohio
Indiana
Cavalier Indiana
Florida
Cavalier Florida
Georgia
Atlanta – Atlanta Beverage
Eagle Rocks
Leon Farmer
Chicago
Windy City
Wisconsin
Beechwood
Texas
Houston/San Antonio – Silver Eagle
Dallas/Fort Worth – Favorite Brands/LNF (DFW)
Austin – Brown
www.sixpoint.com – @Sixpoint – Facebook