Sierra Nevada Adds Summerfest To Can Lineup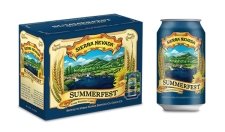 Chico, CA – Sierra Nevada Brewing Co. is releasing a limited run of Summerfest lager in 12 oz. cans (12-packs). Summerfest follows the successful spring 2012 launch of Pale Ale and Torpedo Extra IPA in cans. Within 10 weeks of its introduction, Pale Ale 12 oz. cans (12-packs) topped the craft can category, and Torpedo 16 oz. cans (4-packs) currently reside in the top 10 SKUs. This year's limited Summerfest can release will be a test for possible future production.
"We've been near production capacity in Chico, but we found a short window and felt it made sense to share one of our most sessionable beers in a new package," said Ken Grossman, Sierra Nevada's founder. "We love the versatility of cans, and if last year was any indication, it seems craft drinkers are on board. We hope they'll speak up and let us know if they'd like to see more Summerfest in cans in the future."
Sierra Nevada plans to ship Summerfest cans before Memorial Day, but it doesn't envision the small barrelage extending through summer. The brewery is looking to fans to use social media channels to give their vote on whether or not to increase production in coming years; it will keep its eye on Twitter and Instagram for the hashtag #summerfestbeer, and it welcomes Facebook feedback.
Also aligning with Summerfest in cans is Sierra Nevada's "Where's Your Can Been?" contest that invites fans to take a photo of their adventures—anything from a BBQ on their back porch to a weekend hike—and submit it at PaleAleCan.com for the chance to win a Sierra Nevada T-shirt. Hundreds of photos are in the contest gallery now, and each photo can be shared via social media.
"Whether it's in a cooler, daypack or raft," said Grossman, "we're excited to see Summerfest among the cans going where bottles can't."
About Sierra Nevada Brewing Co.
Founded in 1980, Sierra Nevada Brewing Co. is one of America's premier craft breweries, highly regarded for using only whole-cone hops and the finest quality ingredients. The pioneering spirit that launched Sierra Nevada spans more than three decades, with innovation emerging from both the brewhouse and sustainability initiatives. Sierra Nevada has set the standard for artisan brewers worldwide as a winner of numerous awards for its extensive line of beers including Pale Ale, Torpedo®, Porter, Stout, Kellerweis® and a host of seasonal, specialty and limited release beers. Learn more at www.sierranevada.com.