Short's Brewing Expands Distribution into Central Florida
(Elk Rapids, MI) – Short's Brewing Company of Bellaire and Elk Rapids, MI will begin distribution of their beer in Florida beginning in January with Cavalier Distributing in the greater Orlando area and J.J. Taylor Distributing Florida, Inc. in the greater Tampa area. An official launch week is set to take place in the Tampa area the week of January 14th, with launch events in Orlando the following week.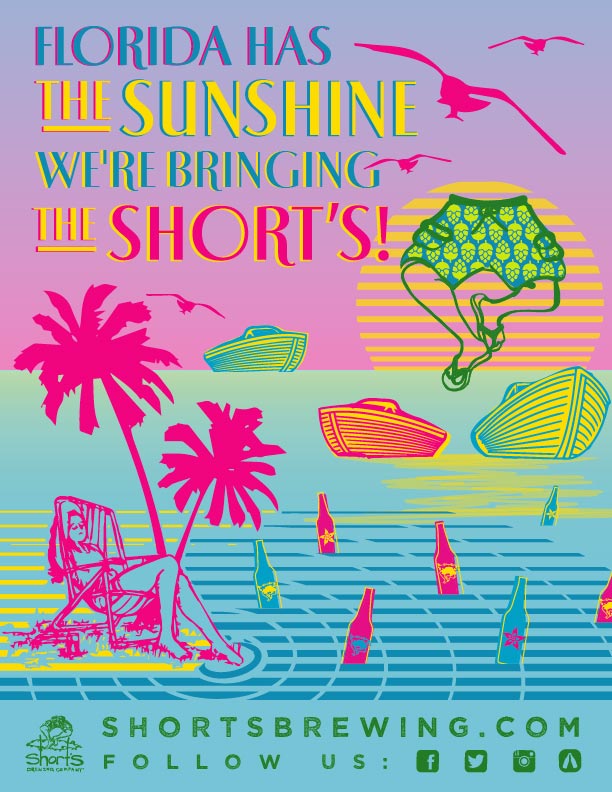 Short's, known widely for their flagship beers and experimental brews, prides themselves on producing fearlessly creative beers handmade by people who care in northern Michigan. Short's plans to distribute flagship brands Huma Lupa Licious (India Pale Ale), Soft Parade (Fruit Ale), and Local's Light (American Lager) beginning in January. Short's new flagship, Juicy Brut, will also launch in package in Florida in February, followed by the highly popular seasonal, Soft Parade Shandy, in March.
Distribution of Starcut Ciders, Short's hard cider brand, will also begin in January. Pulsar, Octorock, and Mosa will be available in cans and on tap. Mosa is Starcut Ciders' newest offering, a blend of Florida orange juice and Michigan hard cider inspired by the popular brunch beverage.
According to Scott Newman-Bale, a partner at Short's, "Although we're seeing double-digit growth in our existing area, a lot of Short's beer drinkers head south for the winter, and we wanted to ensure their favorite brews are available to them. We've received many requests from Michigan-residents visiting Florida over the years, so we're combatting seasonality and keeping people happy at the same time."
This distribution expansion is the first new territory Short's has entered since 2016. For more information about launch events and where to find Short's brews in Florida, please visit shortsbrewing.com/shortsinflorida.
About Short's Brewing Company
Located in the heart of Downtown Bellaire, MI, Short's Brewing Co. was established in 2004 by Joe Short. In 2009, Short's began keg and bottle distribution in Michigan via their Elk Rapids Production Facility. Starcut Ciders is a division of Short's Brewing Company born out of a desire to celebrate the bounty of Michigan orchards. The brewery is known widely for their flagship and experimental brews including Huma Lupa Licious and Soft Parade. Short's prides themselves on producing fearlessly creative beers, handmade by people who care in Northern Michigan.
www.shortsbrewing.com – @ShortsBrewing – facebook
About Cavalier Distributing
Established in 1992 by Founder/President George Fisher, Cavalier Distributing is one of the only distributors in the country with a portfolio that is exclusively American craft and imports. Cavalier is dedicated to bringing great beer and other craft beverages to customers in Florida, Indiana, and Ohio. Cavalier employs more than 350 employees throughout the three states and is headquartered in Lakeland, Florida, Indianapolis, Indiana, and Cincinnati, Ohio.
About J.J. Taylor Distributing Florida, Inc.
J.J. Taylor Distributing Florida, Inc. distributes beer brands from over 90 Domestic, Craft and Import suppliers and serves more than 12,000 retail customers in 17 Florida counties. J.J. Taylor Distributing is committed to being "First Choice" to our employees, customers and suppliers and creating value through optimal growth as the "variety leader" in the beverage industry.