Shipyard Brewing 2011 Release Schedule Including New Offerings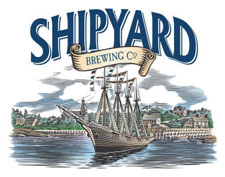 Stay tuned at TheFullPint.com as we do our best to provide you with your favorite brewery's release schedule.
Here is Shipyard Brewing of Portland, ME's release 2011 schedule along with info on two new beers.
Ship Yard Brewing's 2011 Seasonal Releases
January 15
Shipyard Brown Ale
April 15
Shipyard Summer Ale
August 15
Smashed Pumpkin
August 15
Shipyard Pumpkinhead Ale
November 15
Shipyard Prelude Special Ale
As a bonus, we've learned that within the Puglsy's Signature Series, Double Old Thumper (Release time TBD) and POSSIBLY a Smashed Blueberry for spring time.
Here is the description of Double Old Thumper: Here's the copy we have thus far for Double Old Thumper:
Double Old Thumper is the big brother of the British Grand Champion beer Old Thumper.  Available in the United States under a unique arrangement between England's Ringwood Brewery and Shipyard Brewing Company, Double Old Thumper is a real beast of a beer.  Created by Shipyard's master brewer Alan Pugsley, Double Old Thumper is deep brown in coor with a spicy hop aroma and a warming malty finish.  This beer pairs well with short ribs, lamb, hearty stews, and casseroles.  11.2% alcohol by volume.