Sebago Bonfire Rye Ale Returns for Fall
(GORHAM, ME)  — Tomorrow, Sebago Brewing Co. will release Bonfire Rye Ale, the brewery's hoppy fall seasonal that boasts earthy, piney flavors.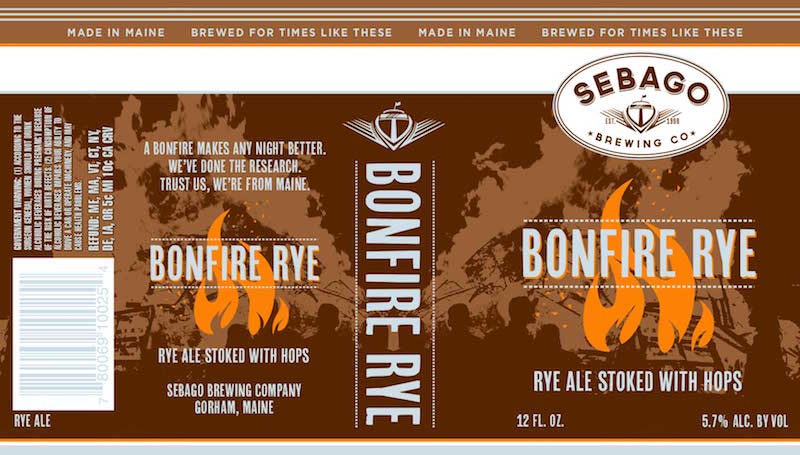 First brewed in 2013, with the intention of being unique among other fall seasonal beers, Bonfire uses a combination of malts with the addition of American hops that are meant to enhance the flavors associated with the Pine Tree State. "We wanted to create an autumn seasonal that is just as satisfying on a warm day as it is on a cool evening. Bonfire is that beer," said Tom Abercrombie, brewmaster, Sebago Brewing Co.
"We didn't want to brew an Oktoberfest style or a pumpkin beer with cinnamon or other flavors," co-founder Kai Adams said. "This beer was brewed to represent fall by featuring hops and malt, and it's an excellent food beer."
While Sebago brewer Rusty Packer initially made Bonfire Rye Ale as a pilot brew, the beer has caught on as a go-to late-summer beer that remains relevant even as temperatures drop.
"It's refreshing enough to quench your thirst," said Adams, "but has enough malt backbone to warm you up as autumn rolls in."
Bonfire Rye is brewed with Simcoe, Columbus, Chinook and Citra hops, as well as six different malts — including American two-row barley, English crystal and pale malts — and Weyermann German Rye. Bonfire's alcohol by volume (ABV) is 5.7 percent, and it has 67 international bittering units IBUs. Available on store shelves in six- and 12-pack cases and on draft at your favorite watering hole, Bonfire Rye can be found throughout New England all autumn long.
About Sebago Brewing Company
Sebago Brewing Company is a Maine-owned and -operated company firmly rooted at the crossroads of food and beer. Since opening in 1998, Sebago has become Maine's premier contemporary American brewpub and one of the fastest-growing craft breweries in the state. Sebago offers a full line of year-round beers, five seasonal beers and several highly anticipated, limited-edition Single Batch Series beers. Sebago Brewing Company has a reputation for creative, high-quality, unique beers that tempt and satisfy the palates of beer lovers.
For more information on Sebago Brewing Company's events and beers, visit www.sebagobrewing.com.