SanTan Brewing Named Small Business Of The Year By The Chandler Chamber Of Commerce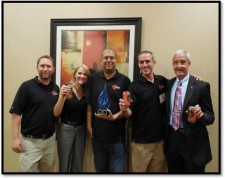 Chandler, AZ – Celebrating with an awards ceremony held last Thursday, May 30, at the Hilton Chandler, SanTan Brewing Company was named Small Business of the Year by the Chandler Chamber of Commerce.
It's no doubt that SanTan's commitment to excellent service, brewing quality craft beer and supporting the Chandler economy with their ever expanding job opportunities and investments helped them to gain public support in earning this award.
"We are humbled to receive this award and honored to be a part of the growth of Chandler. With the support of the Chandler community, we look forward to even more success in the years to come," said Anthony Canecchia, Owner and Head Brewer, SanTan Brewing Company.
Each year, the Chandler Chamber of Commerce calls upon the community to nominate local business owners, businesses, educators and individuals to be considered for this award. The nominees are screened by a committee and winners are selected. This is the first time that SanTan Brewing Company has been honored as Small Business of the Year in Chandler.
According to Terri Kimble, President and CEO of the Chandler Chamber of Commerce, SanTan Brewing received several nominations from community members for this award.
About naming SanTan Brewing Company Small Business of the Year, Terri goes on to say, "There were many great reasons why SanTan stuck out as a clear winner with our committee members. They are the epitome of what a small business should be; operating with a clear vision, creating jobs, expanding and giving back to those in need topped our list of reasons. SanTan's quality craft beer and commitment to staying in Chandler and supporting the community are winning qualities of a successful small business."
About SanTan Brewing Company
Open since 2007 under the leadership of head brewer and owner, Anthony Canecchia, SanTan Brewing Company has established a strong reputation as Arizona's favorite craft beer. In addition to brewing, SanTan features a friendly neighborhood brewpub in Downtown Chandler, which has quickly become one of the top local food and beer destinations in the East Valley.
In 2009, SanTan Brewing began distributing their core and seasonal brews throughout the state of Arizona, operating with a mission to pair craft beer with craft food that would inspire great conversation and good times. The brewpub and SanTan beers have won numerous national and statewide awards including a silver medal at the 2011 Great American Beer Festival, a gold medal at the 2012 US Open Beer Championships and 2011 Best Brewery in Arizona, selected by the Phoenix New Times.
Visit SanTan Brewing Company at 8 S. San Marcos Place, Chandler, AZ. They're open Sunday-Thursday, 11 a.m.- 1 a.m. and Friday-Saturday, 11 a.m. – 2 a.m.
www.santanbrewing.com – @SanTanBrewing – Facebook