Saint Arnold Wins Big at 2012 World Beer Cup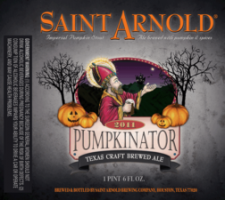 We won! We won! We won! We won three medals at the World Beer Cup which was held in San Diego this past Saturday. Winning one makes you feel great, but winning three is euphoric. Here are the award winning beers:
Pumpkinator won Silver in the Field Beer or Pumpkin Beer category
Santo won Bronze in the American-Style Dark Lager category
Endeavour won Silver in the Imperial India Pale Ale category
Of note, Endeavour's Imperial IPA category was the second largest with 93 beers entered, and Santo is not a dark lager but as we prefer to refer to it, a black Kölsch, but dark lager was the most appropriate category that existed for Santo.
And while at first we thought that Philip's exuberance on stage after winning the second medal was borderline obnoxious, we decided we liked it much more when the photo of our brew crew was plastered everywhere on the Brewers Association press materials.
This was the ninth bi-annual World Beer Cup and the most competitive ever with 799 breweries from 54 countries entering almost 4,000 beers. We have now won 10 WBC medals in all over the years, the most of any brewery in the southern U.S.