Hangar 24 Brings Home Gold from the 2012 World Beer Cup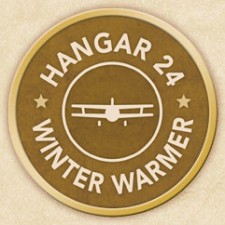 Redlands, CA – May 9, 2012 – Brewers from around the world received awards from an elite international panel of judges in the 2012 Brewers Association World Beer Cup® in San Diego, CA on May 5th.  The ninth bi-annual competition boasted the strongest field of entrants on record, with 799 breweries from 54 countries and 45 U.S. states entering 3,921 beers is 95 beer style categories.
Hangar 24 Craft Brewery received the gold medal for their Winter Warmer in the Specialty Beer category.  Winter Warmer is a Strong Ale brewed with maple syrup, cinnamon and spruce tips handpicked from the local San Bernardino Mountains.
Brewers Association President, Charlie Papazian said, "[The World Beer Cup®] is called 'The Olympics of Beer Competition' for good reason.  The event brings together great brewers from all corners of the globe.  Plus, the awards are highly regarded.  A brewer who wins a World Beer Cup® gold award knows that their winning beer represents the best of that beer style in the world."
"We've always been very proud of the quality and flavor of our beers," said Ben Cook, Owner and Master Brewer of Hangar 24 Craft Brewery, "and it's always great to be recognized by other industry professionals.  The entire Hangar 24 Family and I are honored to receive such a prestigious award."
In 2012 Hangar 24 adopted Winter Warmer into their Local Fields Series and renamed it simply, Warmer. Hangar 24's Local Fields a series comprised of six specialty beers each brewed only once per year with locally sourced ingredients.
"This series a great way to showcase the use of local Southern California ingredients and what they can do in beers," said Kevin Wright, Hangar 24's Head Brewer.   "Using local ingredients has always been part of Hangar 24s core values and this win is great news for our Local Fields series."
While Winter Warmer is typically available only in the cooler months, Hangar 24 will offer the beer in their Tasting Room located at 1710 Sessums Drive in Redlands, CA during American Craft Beer Week (May 14-20). Warmer will be available in 22oz. bottles this December.
###
For additional information, please contact Kerry Roush, 909.389.1400 x 108; [email protected]