Saint Arnold Will Begin Distributing in Florida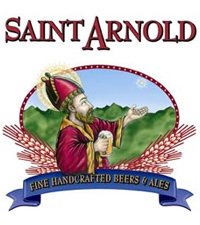 (HOUSTON, TX) – Saint Arnold Brewing Co., the oldest craft brewery in Texas, has finalized agreements with distributors in Florida and will enter markets along Florida's Gulf Coast this month. Florida is just the fourth state where Saint Arnold beers are available, joining Texas, Louisiana and Colorado.
Saint Arnold, which is named for Saint Arnold of Metz, the patron saint of brewers, is ranked 45th on the Brewers Association list of top craft breweries. It operates out of a 104,000 square foot 3-story brick building originally constructed in 1914. Saint Arnold's brewhouse was imported from Klosterbrauerei Raitenhaslach, a Bavarian monastery.
"We've been serving beer enthusiasts along the Gulf Coast for nearly 20 years – first in Texas and for the past three years in Louisiana – and we think we'll fit right into the markets along Florida's Gulf Coast," said Saint Arnold Founder/Brewer Brock Wagner.
Saint Arnold inked agreements with Coastal Beverage Ltd., Gold Coast Eagle Distributing, Great Bay Distributors Inc., Lewis Bear Company, Peace River Distributing, Pepin Distributing Company, Suncoast Beverage Sales and Tri Eagle Sales. The agreements pave the way for Saint Arnold's expansion into Gulf Coast Markets from Pensacola to Naples, Florida.
Initially, Florida beer fans will find the following on tap in restaurants and pubs, with gradually expanding retail distribution of six-packs:
Saint Arnold Fancy Lawnmower Beer – A true German-style Kölsch that is crisp yet has a sweet malty body that is balanced by a complex, citrus hop character. This delicate flavor is achieved through multiple additions of German Hallertauer hops.
Saint Arnold Elissa IPA – A hoppy beer that achieves proper balance with malty body despite huge hop additions in the kettle that give it a wonderful bitterness. Elissa IPA is dry-hopped in the fermenter to create the pleasant floral, hoppy nose.
Saint Arnold Christmas Ale – A rich, hearty ale featuring five different malts, making it perfect for the holiday season with a malty sweetness and spicy hop character. It can be paired with fruit cake, Christmas pudding and squash bisque.
During its first 19 years, Saint Arnold has grown slowly and carefully, emphasizing quality and flavor. Its reputation for brewing world-class beers was bolstered at last month's Great American Beer Festival when Saint Arnold became one of the few breweries that can boast of a complete lineup of 13 year-round and seasonal beers that have won GABF or World Beer Cup medals. Over the years, Saint Arnold's beers have been recognized with 18 medals at the Great American Beer Festival and 10 World Beer Cup awards.
About Saint Arnold Brewing Company
Saint Arnold Brewing's 16 brews are made and sold by the company's staff of 52 dedicated employees. Ranked 45th on the Brewers Association list of top craft breweries, Saint Arnold was listed by USA Today as one of the "10 great places to see what's brewing in beer," and Smart Meetings magazine named it among the "Top 5 breweries to host an event." Saint Arnold is located at 2000 Lyons Avenue and its brewery tour and tasting is offered every weekday at 3:00 P.M. and Saturdays starting at 11 A.M.
www.saintarnold.com – @SaintArnold – Facebook