Saint Arnold Bishop's Barrel No. 5 Hits Bars and Restaurants Today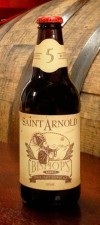 Houston, TX – When World Beer Cup judges awarded Saint Arnold Divine Reserve No. 4 a gold medal in the Strong Scotch Ale category in 2008, the craft beer community wondered if they would ever be able to try the beer again. The Divine Reserve series features single batch beers that are typically brewed just once and retired, but the recipe for Saint Arnold Divine Reserve No. 4 is making a special return engagement.
Recipe for Award-Winning Divine Reserve No. 4 Returns for First Time in Six Years
Saint Arnold Brewing Co., the oldest craft brewery in Texas, brewed a fresh batch of the Wee Heavy Scotch Ale in December 2012, which was then aged for nine months in Old Forester bourbon barrels. The Houston brewery is releasing it today as Saint Arnold Bishop's Barrel No. 5.
Saint Arnold Bishop's Barrel is a series of releases of beers that have been barrel aged. The barrels have been chosen to enhance and complement the characteristics of the underlying beers. In the case of Bishop's Barrel No. 5, the bourbon barrel contributes vanilla, cinnamon and touch of rich earthy pipe tobacco, which mix with an alcohol warmth that adds to the rich creaminess.
"The barrel aging adds to the whole without taking away the character of the original," said Brewer Vince Mandeville.
Each batch of Bishop's Barrel is distinguished by the number on the neck label. Because of the small amount of beer produced from the barrels, it will only be available in pubs and restaurants throughout Texas and Louisiana.
Specifications of Bishop's Barrel No. 5:
Original Gravity: 1.083 – Final Gravity: 1.020 – Alcohol: 9.0% ABV prior to barreling – 12.0% ABV after barreling – Bitterness: 19 IBU
The release of Bishop's Barrel No. 5 isn't the first time a Divine Reserve recipe has been dusted off. Two beers in Saint Arnold's regular lineup – Saint Arnold Pumpkinator and Saint Arnold Endeavour – were originally released as Divine Reserve No. 9 and No. 11 respectively.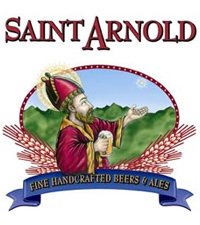 About Saint Arnold Brewing Company
Saint Arnold Brewing's 16 brews are made and sold by the company's staff of 52 dedicated employees. Ranked 45th on the Brewers Association list of top craft breweries, Saint Arnold was listed by USA Today as one of the "10 great places to see what's brewing in beer," and Smart Meetings magazine named it among the "Top 5 breweries to host an event." Saint Arnold is located at 2000 Lyons Avenue and its brewery tour and tasting is offered every weekday at 3:00 P.M. and Saturdays starting at 11 A.M.
www.saintarnold.com – @SaintArnold – Facebook